Producer Ken Murase & Screenwriter Miku Ubukata from "silent"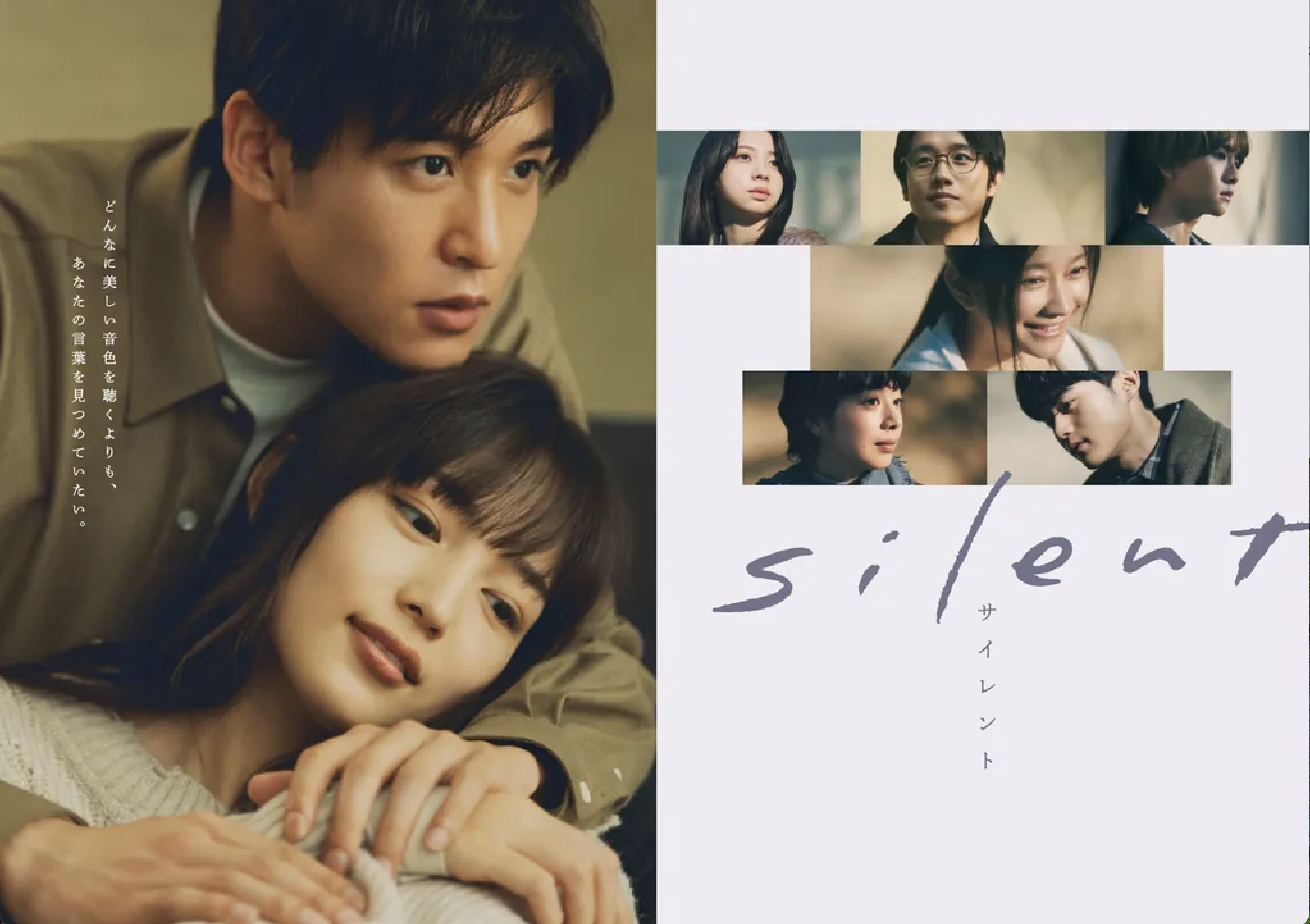 Ken Murase, producer of the Thursday night drama series "silent" and screenwriter Miku Ubukata, reveals the story behind the creation of one of Fuji TV's most buzzed about drama series for the Fall 2022 season.
Ken Murase has previously worked on dramas such as "Love That Makes You Cry" (2016/Fuji TV), the film "Nobunaga Concerto" (2016), and "The Promised Neverland" (2020). As for Miku Ubukata, she won the Grand Prize at the Fuji TV Young Scenario Award in 2021. Although she was a newcomer who had never written a screenplay other than those entered for competitions, her debut as a screenwriter with a completely original work was a surprise selection.
Part 1 – Ken Murase & Miku Ubukata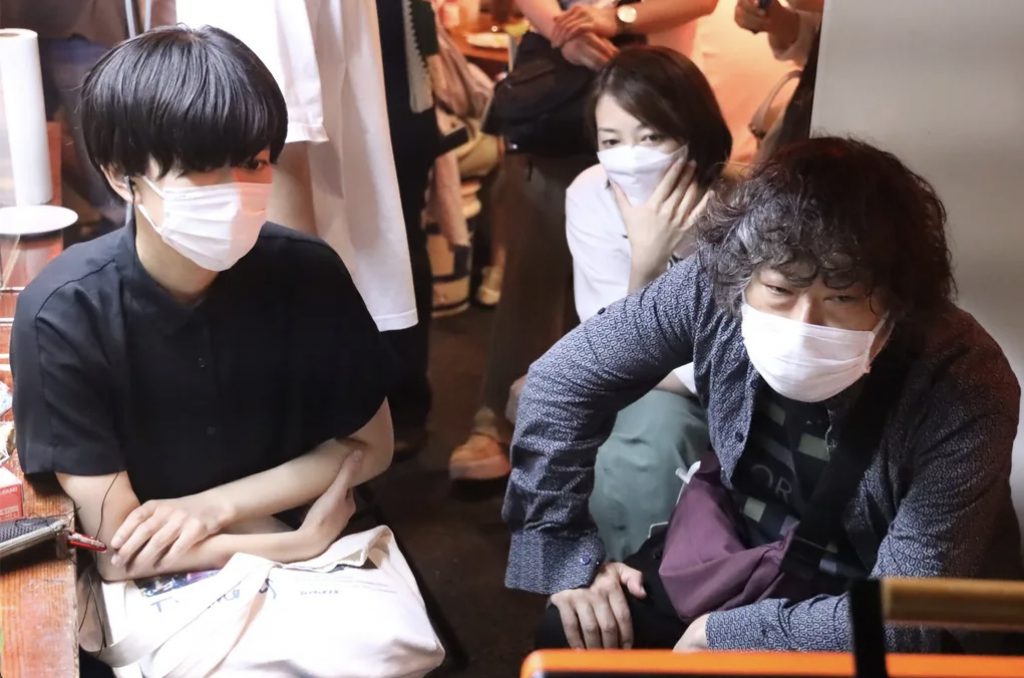 Q: This work has been the topic of much discussion, with comments such as "It makes me cry every time" and "It's too moving!" Please tell us about your thoughts on this.
Ken Murase: Thank you all so much. I think this is a drama that delicately portrays how people feel and think. I am happy that everyone has accepted the series in such ways.
Miku Ubukata: I'm also thrilled about it all. I hope everyone continues to enjoy it!
Q: This is the first time for you to write a script for a drama. How does it feel to know it has become a series?
Miku Ubukata: When scripts are eventually turned into dramas, I feel that the visual imagery usually turns out to be quite different from what we had originally pictured in our minds. But I feel they are simply "correct" rather than "different." Also, I think Haruna Kawaguchi is a superb actress. For example, the part in the script where I simply just wrote "sheds tears," she understood about Tsumugi's run of emotions for the scene and managed to act it out fantastically. Of course, it also comes down to her abilities as an actress and the power of the direction team. But I feel that she's making it more than what I had written in the script. In a good way.
Q: How did "silent" originally come together?
Ken Murase: I met Ubukata-san at the Young Scenario Award in 2021 and I thought, "She's so talented and I instantly aspired to work with her." Since I was going to oversee the Thursday Night 10 p.m. drama broadcast slot, I asked her whether we could create something original together. I wondered what is required for a drama series nowadays. What immediately came to me was the idea of creating a love story that can be appreciated by adults, which carefully depicts the sentimental feelings of "love." It should not depend entirely on flashy and extravagant plot points.
Q: There are comments from viewers saying the dialogues are "realistic" and really "sticks in your mind." When writing scripts, is there anything you are always particular about?
Miku Ubukata: Not particularly. I just imagine, "What would this character say in the situation?" and let the words naturally come out. Like, when we have a conversation in the real world, we say things like "umm …" etc. without thinking. So, I think it is more natural to make these gestures therefore I try to include them in my lines.
Ken Murase: Normally, I would consult with the scriptwriter and make major changes, but for this one, we have reduced the amount of time for spending on these areas. I have discussed with Ubukata-san to write the script in the way she feels is right. I tried to make the most out of what she has written, because her lines are so detailed and the plot is entertaining. I am also very conscious of the fact that we should shoot the drama as it is originally scripted without overdoing it with the directing.
Q: I heard that the script was written after deciding which cast member will play the roles?
Miku Ubukata: I had already seen many of their dramas and films etc., so I tried to reflect their true speaking style and tone by watching their interview footages and so forth.
Ken Murase: I had met with Haruna Kawaguchi and Ren Meguro from an early stage, so I shared my impressions of them from these meetings to Ubukata-san. For example, Kawaguchi-san has a YouTube channel and she is very open-minded which I think is appealing. I was conveying my impressions of her, in that as she's able to attain empathetic support from the female viewers too, so she could play the role of a girly girl and still be favored.
Q: Were there any scenes that were particularly difficult to film?
Ken Murase: In the beginning of the first episode when Tsumugi runs down the stairs of the apartment complex, we shot the scene with the falling snow as many times as we could using things like an artificial snow machine and several large cranes until we were satisfied. Since it was the opening scene, the director and the art direction crew were very particular about it and spent many hours to perfect it. On the other hand, scenes in which the characters cry or show emotion are shot in like one or two takes.
Q: Real locations, such as "Setagaya-Daita Station" and "Tower Records" are depicted with actual names?
Ken Murase: I think it is best for the audience to see a love story in a drama series as "their own." Therefore, to convey the idea that it's all "happening right here in Tokyo," we use actual names of towns and stores to create a sense of reality.
Q: What are some of the challenges of filming at a train station?
Ken Murase: The hardest part is now rather than when we were filming. Thanks to all the attention the drama is getting, many people are coming to see the location. I am concerned about that because it might cause inconvenience for the locals. In fact, I heard that this is the first time Odakyu Electric Railway has cooperated in the filming of a drama series. I had always thought that their trains are nice and colorful, so I feel lucky that we were able to work with them for the first time. After the decision was made to work with them, the director took the lead in deciding which station to shoot at. We thought about some of the locations where Tsumugi could live. We checked out various areas around and up to Komae Station. And then we heard that "Setagaya-Daita Station" is a new and beautiful one, but it's not as busy as the others. We decided to film there because the location was good, and the director liked it too.
Q: Why did you choose "Tower Records Shibuya" for Tsumugi's part-time job.
Ken Murase: Once I decided that "Tsumugi works part-time at a CD store," the location instantly hit me. After all, it is well-known and as a music lover myself, I have been going there for a long time. So, when we discussed with them, they graciously agreed on supporting us for the filming.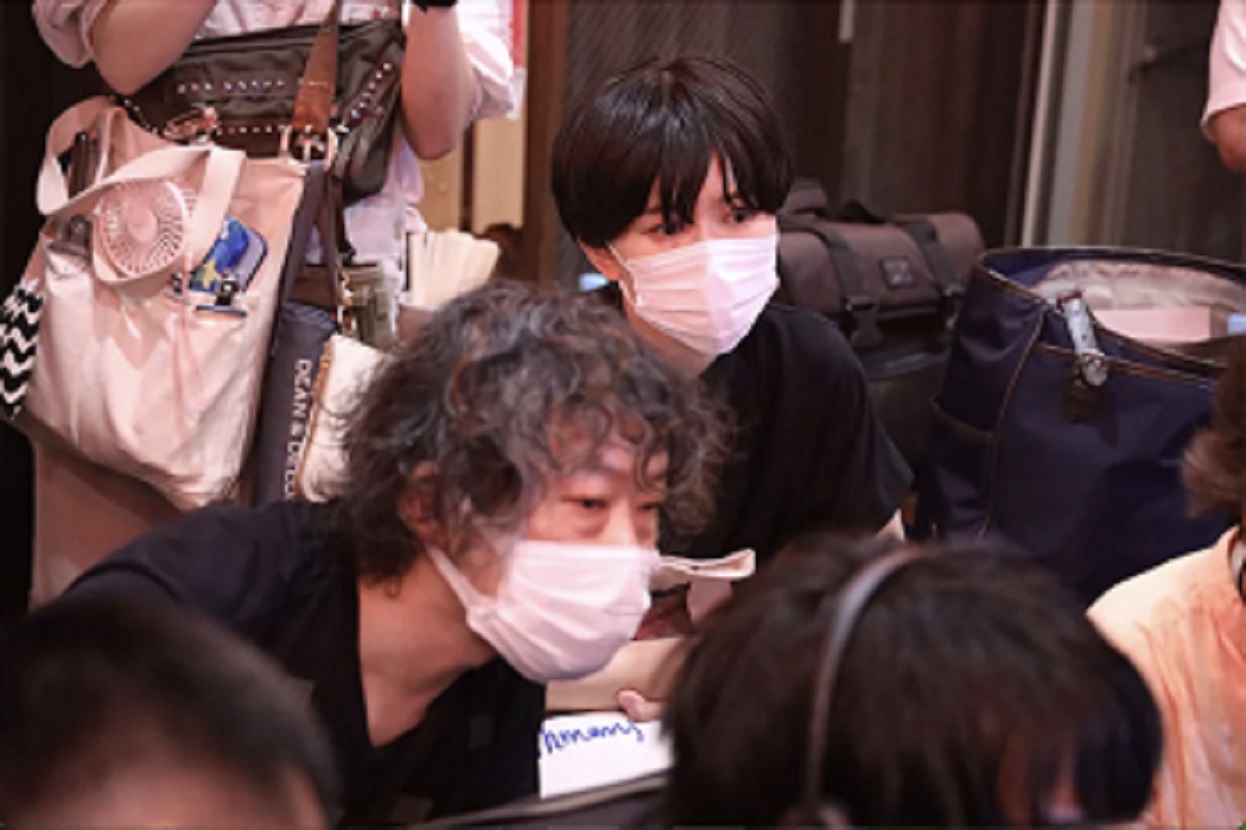 Part 2 – Ken Murase talks the secrets of "silent"
Q: Some have said that the name of the main character Tsumugi Aoba, reminds them of "Wakaba" and "Tsugumi" from music group "Spitz"?
The details are a trade secret (laughter). Both Miku Ubukata who wrote the script and I love the group, so there are many influences from it. I love them so much that I used to play in a copy band when I was in high school. Many of Spitz's songs have a melody in the key of C major, which is simple to play on the piano using the 8 keys of "Do Re Mi." The lyrics too are characterized by the unique atmosphere of their music, even though they are words and phrases that are commonly used by everyone. On the other hand, the music of "Mr.Children" often uses many notes other than the 8 main keys with literary styled lyrics. That being said, I think Ubukata-san's script is very much like "Spitz." In a good sense, she uses simple words with a C major tone but also includes very deep conversational topics too. When I thought about making a drama with this kind of setting, I had the song "Kaede" by "Spitz" playing in my head, and it seemed that she also had it in her mind too. It's a song that was played a little bit in the first episode. The essence of "Spitz" is also scattered throughout the drama. Like, Ubukata-san came up with the name Minato from the song and so on. The song "Mahou no Kotoba" is a theme from the movie "Honey and Clover" (2006). Also, Minato utters the line, "I saw the very moment when someone fell in love…" from this film. "Honey and Clover" was popular among Ubukata-san's generation and the characters in the drama. I also heard that it was a huge influence during their days. So, I think it came out naturally.
Q: In episode 3, there was a scene where Tsumugi and Minato tried to talk through the window of a restaurant without much success. Later, Tsumugi and So smoothly communicate in sign language through the window of a cafe. We see some people on SNS chatting about whether this was to show a deliberate contrast…
The scene between Tsumugi and Minato was shot first, and the one with her and So was supposed to have been filmed on the streets of Shibuya. However, thanks to the great response to the drama, we thought it would be a big challenge if Haruna Kawaguchi and Ren Meguro showed up in Shibuya in the middle of daytime, so we changed the setting to a meeting at a cafe. When I was discussing with the production team, we came up with the idea that the cafe where Tsumugi and So met in episode 2 has a window right next to it, so we could create a contrast by having them communicate through the window just like with Minato's scene. I asked Ubukata-san to rewrite the script on the spot, and the Director also came in for adjustments. So, I wouldn't say it was a coincidence, but it was a result of the flexibility of the team, and it turned out to be a very good scene.
Q: There has been a great response in the entertainment industry with Takashi Okamura of "Ninety-nine" and Satoshi Mukai (from comedy trio "Panther") talking about it on the radio and on Twitter.
I listened to "99 All NIGHT NIPPON" and I was surprised and happy at the same time. Okamura-san said that he was going to "cry," so I thought it would be wonderful if I could get him to really break into tears. I now have a goal of making him cry (laughter). Mukai-san has told us about "Love That Makes You Cry" (2016/Fuji TV). I think that he really loves dramas! As a creator, I am happy that so many people not only in the entertainment industry but also drama enthusiasts and not so drama lovers want to talk about "silent." Nothing could make me happier. Thanks to everyone's support, there are many people who watch the episodes on-demand streaming too. As I also tweeted on Twitter, if you re-watch from the first episode after understanding the feelings of the characters, I think your perspective of the story will change dramatically. I think this is another exciting element about watching a drama series. As well as viewer ratings, we feel that the number of online views will become the new benchmark for TV dramas to be buzzed about.
Q: You wrote on Twitter, "I'm always so nervous the night before the broadcast that I can't sleep. And on broadcast night, I usually can't sleep because I'm worried about how it would be received…" Do you get nervous even if you have a career as long as you do?
Of course! I have been working in film production for the past five years, so I have stayed away from the ratings. Although there is the box-office revenue indicator for movies, it's all revealed only after the movie has been completed and released. The ratings come out while a drama is still being made, so it's very nerve-wracking. It's not only about ratings but also SNS. I am always concerned about how my work is being received by the public. This kind of tension has not changed from the past, and I feel it especially strongly this time. Since so many people are enjoying the drama, this whole feeling feels like it's at its peak.
Q: Could the story change based on viewer feedback? 
It won't change the story significantly, but it may affect some of the details. But I think that is the beauty of a drama series. Once a movie is completed, it is impossible to incorporate the audience's reactions, but with dramas we can.
Original Articles
https://www.fujitv-view.jp/article/post-721703/
https://www.fujitv-view.jp/article/post-721718/2/