HIRUGAO -Love Affairs in the Afternoon-
Release Date: June 10, 2017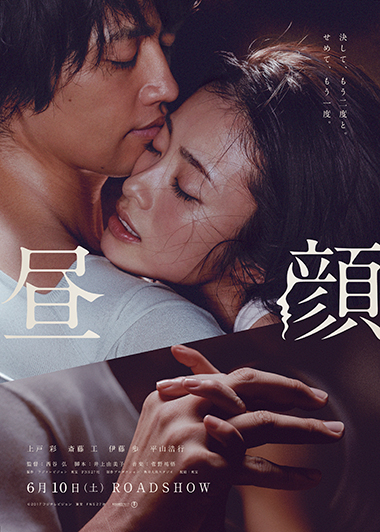 Introduction
"HIRUGAO – Love Affairs in the Afternoon" is a drama series which aired on Fuji Television in July, 2014.
HIRUGAO – A code name for housewives having affairs on weekday afternoons while their husbands are working.
"HIRUGAO" which aired on Fuji TV in July of 2014 became a social phenomenon with viewer ratings of over 13.9% and "time shift" (recorded and viewed) ratings of over 7.8%. Between 6/30 – 9/28/2014, "HIRUGAO" was the second most popular program after "HERO."
Story
Sawa Sasamoto (Aya Ueto) is a childless housewife, living a simple life in a small apartment with her husband. While working at her part-time job at the local supermarket, Sawa meets the beautiful Rikako Takigawa, (Michiko Kichise) a very different kind of housewife. Rikako has a rich husband and two daughters, and enjoys extramarital affairs as if it was a game.
Everything changes when Sawa meets a high school teacher, Yuichiro Kitano, (Takumi Saito) when one of his students breaks into a car at her workplace. Even if Sawa and Yuichiro are married, there is an undeniable attraction. Meanwhile, Rikako makes waves at home when she develops strong feelings for Osamu Kato (Kazuki Kitamura), an artist who she is having an affair with.
Sawa and Yuichiro become intimate, and their affair develops into true love. But when Yuichiro's wife finds out, lawyers get involved and Sawa and Yuichiro are forced to end their relationship.
Rikako also decides to part ways with the artist, Kato, and returns home for the sake of her children. Yuichiro leaves his teaching job and moves far away with his wife, who refuses to give him a divorce. Sawa leaves her husband and decides to live alone. All that Sawa and Yuichiro have left are bittersweet memories of a forgotten love…
Cast
Cast: Aya Ueto, Takumi Saito, Ayumi Ito, Hiroyuki Hirayama and others