SAKURA's OyakoDon
Aired on Saturdays from 11:40 p.m.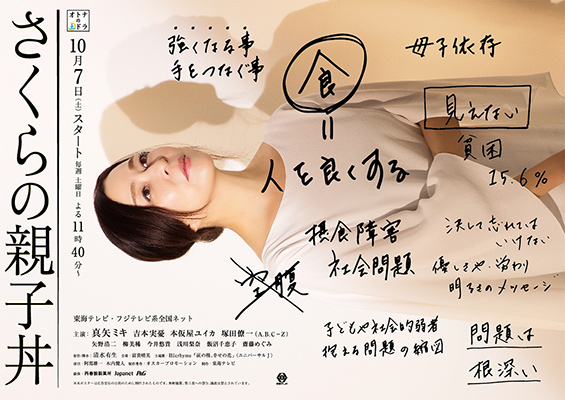 Story
There is a fine line between happiness and unhappiness.
This is the moving story of one corner of the metropolis.
In Tokyo, there is a secondhand bookshop called Tsukumo Do. Deep inside this bookshop is a room called the "meeting place." There, people who have nowhere left to go gather.
The owner Sakura Tsukumo (52) serves them oyakodon gratis and without prying.
She not only fills their bellies, but warms their hearts as well… And then, those people begin, little by little, to talk about themselves. Sakura listens, sometimes encouraging them with a smile, sometimes shedding tears along with them. "When you want to cry, cry. A flower of happiness will bloom for every tear you shed." That is Sakura's favorite phrase.
For example: a boy who, although poor, lives cheerfully and earnestly after being released from reform school for the sake of his little sister. A single mother who spends every day fretting:
"If only I didn't have this child." A woman teacher who worries about an eating disorder caused by a complicated home environment...
The real emotions of people alive now are thrown into relief. In their midst, Sakura herself will come to face her own tragic past. What happened 16 years ago that inspired Sakura to give out free oyakodon? Azami Ninomiya (17), a girl who visits Tsukumo Do one day, is turning back the clock.
Cast
Miki Maya
Miyu Yoshimoto
Yuika Motokariya
Tsukada Ryoichi
Koji Yano
Miki Yanagi
Yuki Imai
Nana Asakawa (SUPER☆GiRLS)
Chieko Iinuma
Megumi Saito
And others