The Public Enemy
Aired on Mondays from 9:00 p.m.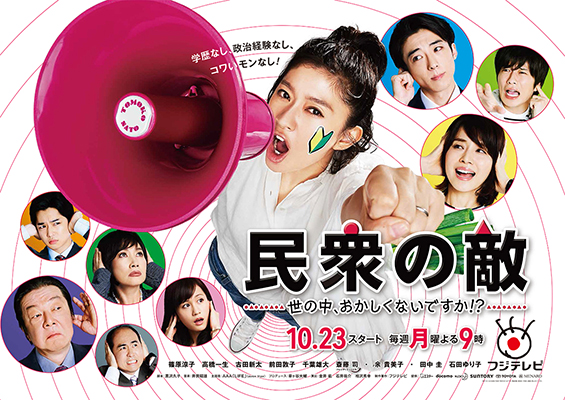 Story
Currently in Japanese society, there exists many issues which are not dealt with, such as cuing children waiting to be accepted for nursery school, an aging society and issues such as welfare.
Tomoko Sato is an ordinary housewife who lives with her husband and child. Up and until now, she had led a very complicated life, firstly with her parents disappearing one after the other. She left high school without graduating and have worked in many part-time jobs. She met her current husband at one of her jobs. As even now, he still works part-time, Tomoko feels that she has to somehow support her family herself, by finding a high pay job. In the midst of this dilemma, Tomoko gets fired from work for breaking her company's rules.
One day, a depressed Tomoko coincidently catches a show on TV about an incident involving a city council minister. When she decides to research more about what the minister job entails, she immediately gets mesmerized by the high rate of pay. After continuing her research on the potential job position, she realizes that there is light at the end of the tunnel. From the data which she finds online, it states that there is an 80% chance for candidates to be elected as a city council member!? Even though she has no educational background, could this be the beginning of her new challenge? Tomoko eventually calculates that a "high salary rate" will make her family happy and decides to fight for a position as a city council minister. This is a story about a woman who simply wants "happiness," therefore opens the way, to new a chapter in her life.
Cast
Ryoko Shinohara  
Issei Takahashi  
Arata Furuta
Atsuko Maeda
Yudai Chiba
Tsukasa Saito
Wakadanna   
Yoshihiko Hosoda
Mio Imada
Kimiko Yo
Kenya Osumi  
Kei Tanaka
Yuriko Ishida