Residential Complex
Aired on Thursdays from 10:00 p.m starting 18th January 2018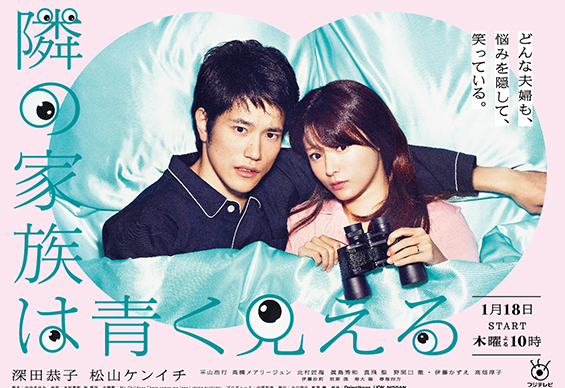 Story
A scuba diving instructor, Nana (Kyoko Fukada) and an ordinary salary man, Daiki (Kenichi Matsuyama) live together in a small apartment. After purchasing a 'corporative' house together in a residential complex, they soon decide that they want to conceive a baby. This is a desire which doesn't come along too easily for them. So, the two of them set out on a mission to succeed with their new objective.
Based on the original story by author Mayumi Nakatani, a 'corporative house' may be understood as a house in a residential complex, whereby the residents exchange various opinions between themselves to make their lifestyles better. This new style of housing is often cheaper than owning a detached house, and many residents focus a lot on the design.
In the drama, Nana and Daiki are surrounded by various families who all have different intentions of their own. This environment makes their lifestyles very complicated, as issues like privacy becomes a major topic for them. Moreover, they soon get pulled in to a whirlwind of strife and complexities.
Cast
Kyoko Fukada
Kenichi Matsuyama
Hiroyuki Hirayama
Maryjun Takahashi
Takumi Kitamura
Hidekazu Mashima
Sei Matobu
Toru Nomaguchi
Kenta Suga
Sairi Ito
Kou Maehara
Satoshi Judai
Shihou Harumi
Kazue Itoh
Atsuko Takahata