Orphan Black – 7 GENES –
Aired on Saturdays from 11:40 p.m.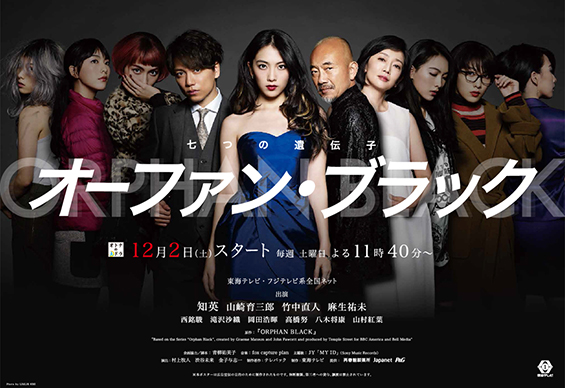 Story
The first ever Japanese remake of BBC's award-winning drama series 'Orphan Black'. The Korean star, Ji-Young to act 7 (seven) different characters!
It is "Based on the Series "Orphan Black", created by Graeme Manson and John Fawcett and produced by Temple Street for BBC America and Bell Media"
Sara Aoyama, a broke and desperate single mother who wishes to live with her daughter Moe in peace, witnesses the shocking suicide of a woman who looks just like her.
When she decides to steal the woman's identity to run away from her problems, she unlocks a world of secrets and a whole heap of trouble. Sara discovers she doesn't just look like this woman, she's genetically identical: a clone – and she's not the only one. As she finds more clones just like her, she comes to see them as a family. Sara must protect them, and herself – because someone is trying to kill them, one by one.
(Produced by Tokai Television Broadcasting Co., Ltd., TELEPACK co., ltd.
©2017-2018 TOKAI-TV, TELEPACK)
Cast
Ji-young
Ikusaburo Yamazaki
Shun Nishime
Saori Takizawa
Koki Okada
Tsutomu Takahashi
Naoto Takenaka
Yumi Asou