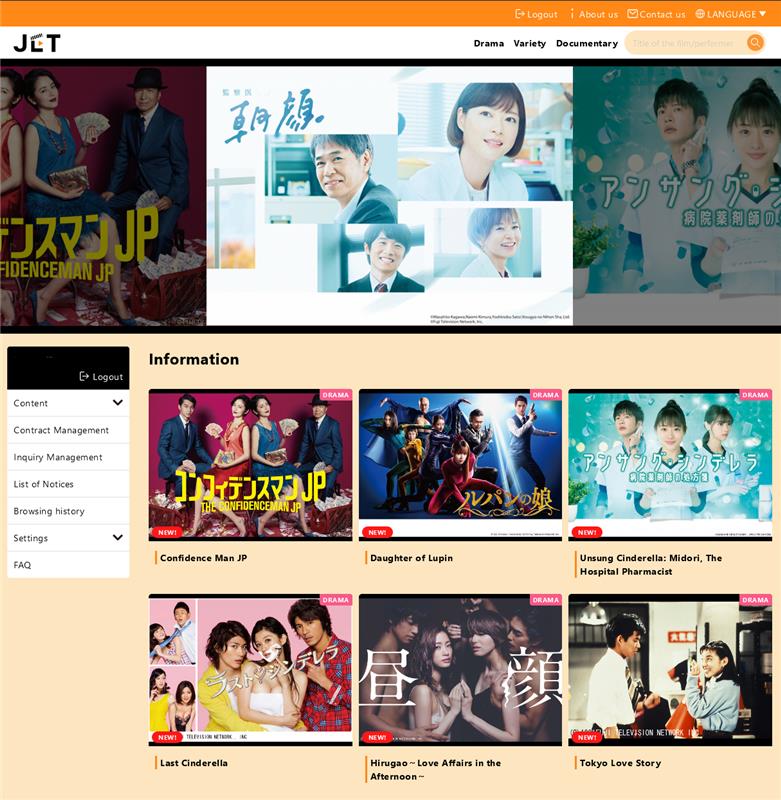 Fuji Television Network, Inc. (Fuji TV) will be the first Japanese TV station to introduce a program sales e-commerce system as part of its DX (Digital Transformation) promotion in its overseas business division, one of the areas that Japanese TV stations are currently focusing on the most.
Fuji TV have boldly IT-enabled the program sales business, which is currently conducted with overseas TV stations and video streaming platforms. Fuji TV have developed the first system that allows Japanese broadcasters to preview and sell programs on the Internet. The system has been named JET (Japan Entertainment TV programs market), and will begin actual operation today, May 17, 2021.
■URL:https://jet-pm.com
After registering as a member on this system, buyers around the world can easily purchase programs as if they were previewing and buying products on other e-commerce sites. Buyers can freely preview trailers of Fuji TV content, select the works they want, and simply enter the time period, region, etc. Everything from purchasing programs to receiving materials and issuing invoices can be done within this system. English and Chinese (simplified) are standard languages, and Japanese is also supported.
Up until now, sellers have had to do these tasks manually while communicating with overseas buyers via e-mail to sell their content. "JET" aims to open up new channels of commerce by using the latest IT technology to make it easier to do this online.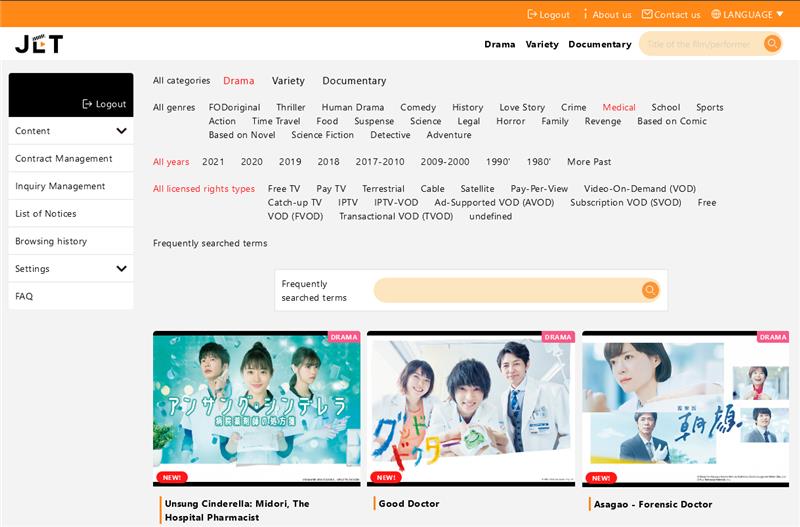 "JET" includes the latest Fuji TV drama series, such as "Asagao – Forensic Doctor " and "Daughter of Lupin," both of which have been broadcasted in 2020 and are now available for overseas sales, as well as "Kyojo" "The Confidence Man JP," "Tokyo Love Story" and "Long Vacation," both of which once caused a huge boom in Asia, and "The Great White Tower," which has been remade overseas.  Buyers can search for these dramas by genre, scriptwriter, director and other keywords.
The aim of the launch of "JET" is first to sell Fuji TV's content to buyers around the world. Then, by the Fall of 2021, we will add a function that will allow other content holders to register as sellers, so that other Japanese content providers such as TV stations, animation companies, production companies, and other content holders can use JET to sell their content to buyers around the world. We plan to operate JET as a comprehensive business platform for visual content. As a result, we hope to further boost the domestic content industry and help Japanese content holders to go global as one.
Please look for further information on the future development of JET.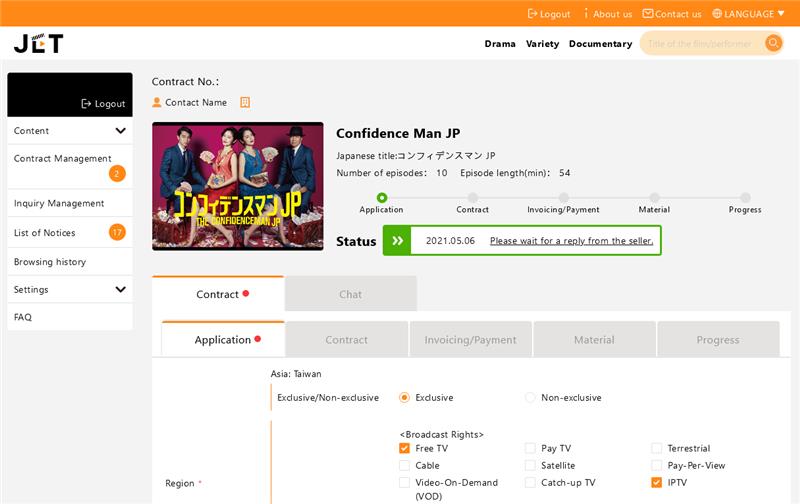 Comment: Yasuyuki Azuma (Overseas Business, Head of International Business Division, Fuji Television Network, Inc.)
We wanted to create a new sales system that would allow buyers from all over the world to freely access and purchase our programs, just as people can easily check and purchase products on Amazon. At the same time, by introducing this latest IT system, we wanted to review our existing business style and create a new business style that is simpler and can easily reach every corner of the world.
Now, the IT revolution is giving birth to new huge video streaming platforms all over the world. This is happening even in regions that we have not had much contact with before. With the promotion of DX in our overseas business, we would like to connect more and more with these new customers and aim for a bigger business together with the TV stations and streaming platforms we have been doing business with in the world. We would also like to use JET to send out our contents to the world simultaneously on a daily basis, and to spread Japanese content to more and more people around the world.