TV Production "New Normal" ~ 'MUSIC FAIR' – Long-running music show with a history of 55 years ~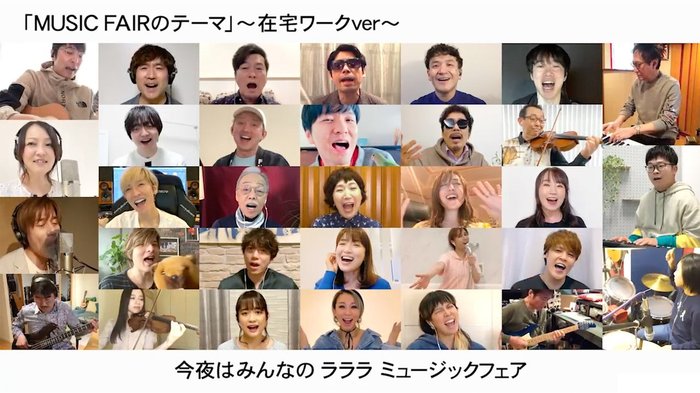 Due to the impact of COVID-19, the television industry has had to embrace the 'remote' concept of filming in many areas. Will these changes take hold as the 'new normal' in the future? We went behind the scenes of 'MUSIC FAIR' to find out.
Popular Saturday night music show "MUSIC FAIR" aired each week from 6PM, produced its new opening theme song through the process of remote filming. Musicians and artists sang and performed remotely from their own homes, and produced the show's opening theme, 'MUSIC FAIR' ~ 'work from home' version. The music video, which was aired during a period of 'social distancing' in Japan, was both visually and musically impressive, giving viewers a sense of hope and courage during this challenging time.
We asked Aya Hamasaki, director/producer of 'MUSIC FAIR,' about the show's production aspects during this period. So, what are some of the positive aspects about filming remotely?
■First of all, please tell us a bit about how the theme of 'MUSIC FAIR' ~ 'work from home' version was created.
After the state of emergency was declared, we were unable to continue filming. So, we had no other choice but to think about producing compilation episodes from past shows. 'MUSIC FAIR' has a history of 55 years, so from the program's archive list which consists of decades worth of the show's contents, we tried to look for ideas which wouldn't clash with the other programs on air. We planned a schedule of roughly two months ahead in advance.
But of course, compilations are good, but I thought it would be nice to have a new song or a new project alongside. This was just my opinion at the time.
First of all, we discussed with the sponsor of the program, 'Shionogi & Co., Ltd.' Thinking of the COVID-19 situation, and as they are a company involved in the medical field, we felt that it was important to discuss about their thoughts. And then, we soon got the reply that they would like for us to take it on board.
They believed that a new project would be an encouragement both for the employees at the pharmaceutical company, as well as those working at hospitals and in healthcare. So, we immediately got down to it.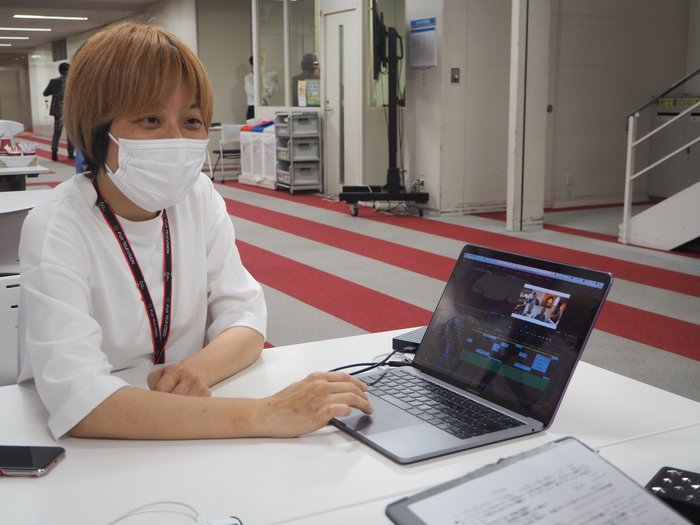 ■So how did the actual production proceed?
Firstly, we contacted the music director, Satoshi Takebe, and asked him on whether we could receive special guidance with 'click' and piano tracks (audio cues) for keeping the right beat and tempo of songs. The artists were then given instructions to sing, whilst also listening to these click tracks as a guide with their earphones. Along with these audio cues, we also sent out a simple manual for video recording and a brief document outlining the project's main ideas to the artists.
■Did the artists do the recordings with their own smartphones?
Yes, they were all recorded by the artists themselves, without any assistance from their agents or managers.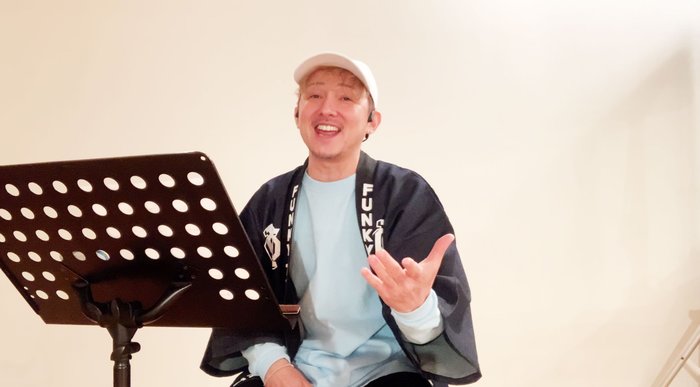 ■The manual also welcomes other new project ideas too!
Some artists sent in their own choruses and harmonies as audio files, since singer-songwriters often have their very own equipment at home. For example, Yu Sakai sent us various versions like harmony 1, harmony 2 and so on.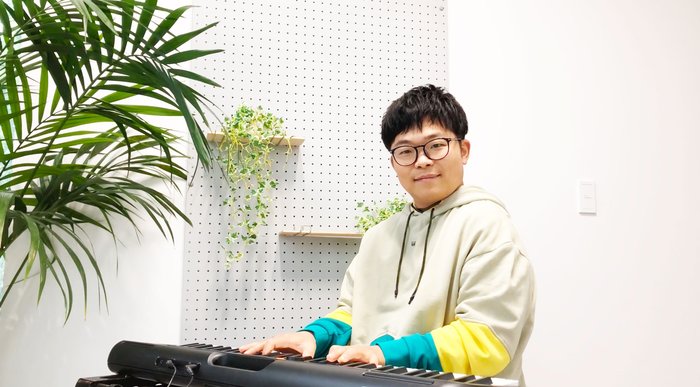 ■Was the editing process for handling all these recordings quite challenging?
There are editing parts which we simply must keep digging at, but most of the work can be done on a PC. We use 'Premiere Pro' for videos and 'Pro Tools' for sound editing. Quite a while ago, many felt that it was normal to ask operators based in the editing rooms for help, but nowadays, you can't make a living as a director unless you can do the actual work by yourself.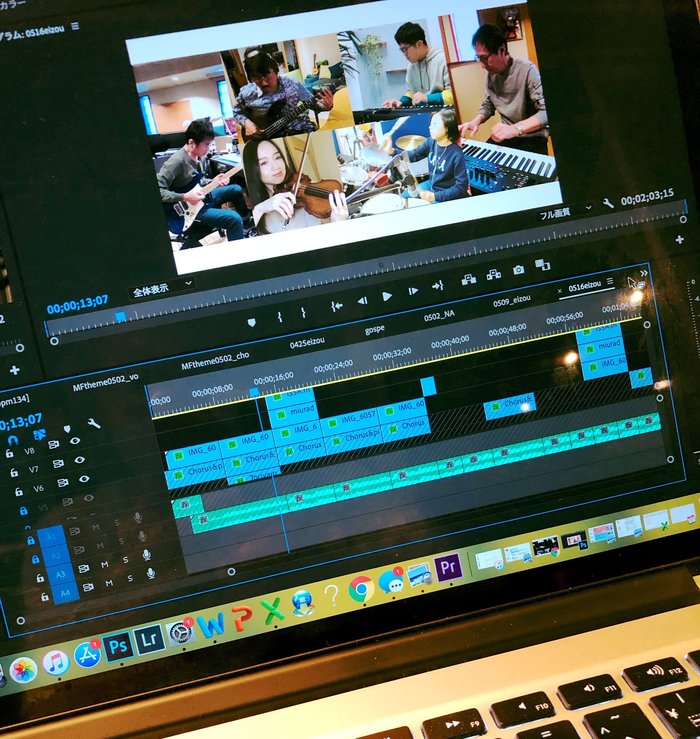 ■Did you realize anything new during the production process?
As for Yoyoka, the genius drummer who lives in Hokkaido for example, her father could set up a microphone and did all the recordings at home, without having to come all the way down to Tokyo. It made me wonder, that we could have already done it this way on a regular basis.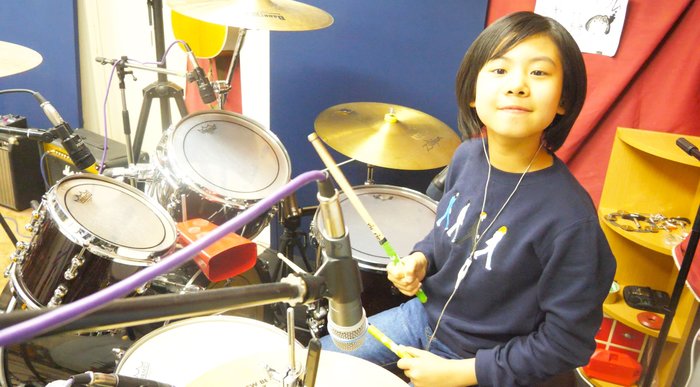 ■How did you feel after it was all completed and it went on air?
I suppose most artists were on their own at home when they were singing, but if you see them on-air in the actual broadcasts, they are collaborating and performing together. I think that this made us all realize some of the new possibilities for the future. Also, whilst seeking new things we can do to help during the COVID-19 situation, one of the artists even thanked us for offering them an opportunity to perform, as they felt that it all made them feel happy and positive.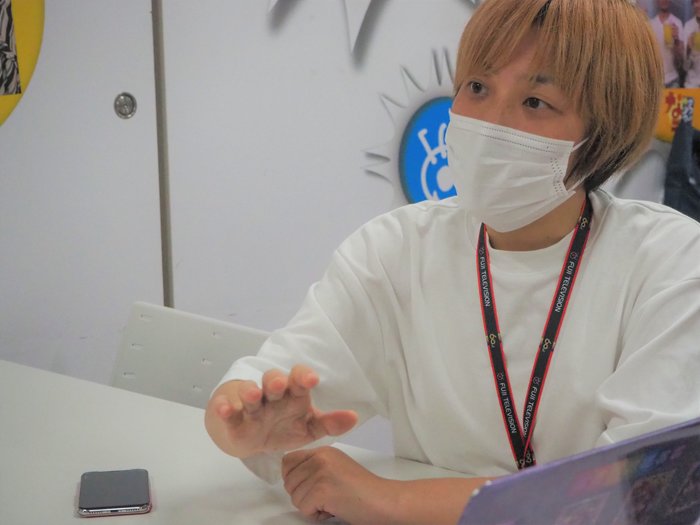 ■After restarting filming when the state of emergency was over, were there any visible changes?
The most important thing we are always focusing on, is how we can create a risk-free environment for the artists. For a while after we started filming, we were recording without having any live bands in the studio, so that we could reduce the number of people involved. But since 'MUSIC FAIR' also include collaboration performances, we couldn't simply proceed with pre-recorded tracks. So, we had to split the recording days for the live bands and the actual performances, and then we had to merge everything together.
It's a show that really values the energy created between live music and the vocal performances, but we were forced to give up these aspects. I guess you could say that we had to change our basic way of thinking fundamentally. We were not in a situation where we could say, "let's make it through even if it's impossible!"
With live performances, there's always a sense of unpredictability and excitement, whereby we can experience something which surpasses expectations, but it doesn't necessarily go that way with pre-recordings.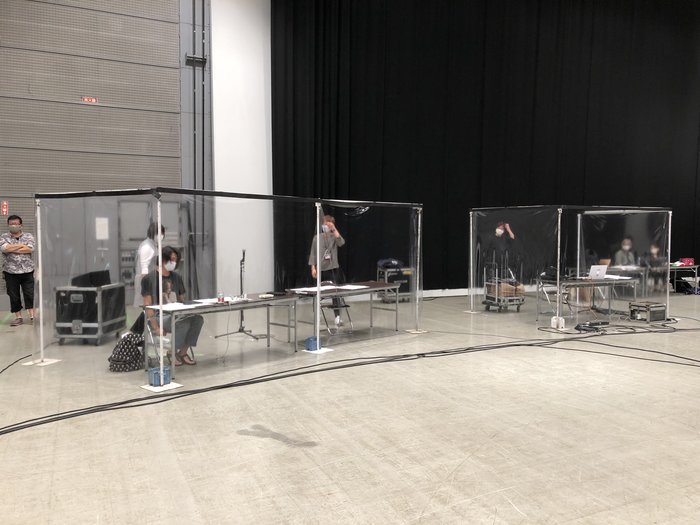 ■I think the way the production crew are working has changed. Are there anything which you think will continue to be established as the 'new normal'?
About 10 members used to actually attend the set design meetings, but now we only have the designer and director, and the rest join in remotely. Even for studio light meetings, only 4 out of the usual 15 members attend, and everyone else join in through 'Zoom.'
The editing room is also a place which may include situations of 'close contact.' We used to have assistant directors consistently watching and learning the processes as it happens for their training, however we had to scrap this idea too. The television industry tended to lag behind in some respects, but it feels to me that the way we are working now is becoming much more efficient, and that the issue of the so called 'workplace reform' seems to be shifting in a positive direction too.
We can have face-to-face meetings now, but we still continue to have regular meetings on 'Zoom.' By doing so, crew members who have other things to do can cut out the time it takes to travel all the way to Daiba. So, there are lots of positive aspects too (laughs).
■On the other hand, are there any aspects that has become difficult?
For example, in the case of 'Kinki Kids Bunbuboon' (lit.) aired each week on Saturday mornings from 11:05 (a show which I'm also supervising), if there are four cast members for a remote filming session, and two cameras are needed for each location, then we need to compile eight sections of video data for editing. This puzzle is quite a challenge, and the work for the director has increased.
■Do the limitations which arise as result of remote filming make us become more creative? And if so, are there positive aspects to this?
Even for 'Kinki Kids Bunbuboon' (lit.), we did a new project where we decided to produce a theme song. We invited a guitarist, bassist, and a keyboard player to join a remote recording session. They performed whilst using a demonstration tape as an audio cue, and the final track turned out to be a great one. I feel that the remote style is kind of a good match for music. The amount of data we deal with is not at all stressful now, and we can even collaborate with musicians living all the way in Los Angeles.
■For 'Kinki Kids Bunbuboon' (lit.), they even showed behind the scenes shots too.
I suppose we've always thought that showing the process of making a show, maybe portrayed as unattractive for our viewers. From the point of view of a TV production team, we felt that showing the beautiful finished product was always the best. However, when we aired it, we got a lot of positive reactions from the viewers saying that they had "never seen these kinds of processes before" and this is what they wanted to see.
■So, what about the technological aspects?
We have reduced the number of cameras. Usually, a music show has at least six cameras, sometimes up to eight or nine, but now we're only using four. It's almost like the retro music show we used to air a long time ago, "Yoru No Hit Studio." Instead, it's a good training for the cameraman, because each of the cameras require a greater usage and work. It's not easy for them when you have 30 seconds for one individual cut. But 'Yoru No Hit Studio' were doing it. Whether it be for maneuvering a camera dolly, through to the process of zooming, a high level of expertise is required.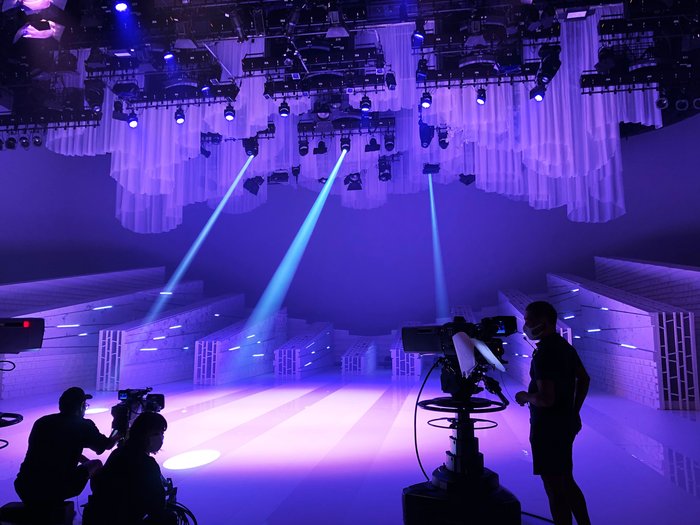 ■Finally, speaking of the music industry, what kind of things did you feel after interacting with the artists?
I think the music industry was one of the first to be affected by the 'Corona Shock.' For example, concerts at the Tokyo Dome were being cancelled on the day of the performance etc.
However, when I was interacting with musicians and artists, they seemed to be quite ethical about it all. Even in early March, a period when no other industries were experiencing any closures, etc., but the music industry was already taking the relevant measures. Of course, in spite of the issues of financial losses,  they were all doing what they believed was right at the time. And as it became apparent that this was going to continue for a while, new challenges began to emerge.
Also, as for the future, believing that being independent creators is necessary for surviving in the industry, many artists began to edit videos on their own and streamed them on YouTube. There are so many people who are highly motivated to learn.
Now, I receive questions like "what kind of editing software do you use?"- a kind of conversation that I never had with them before. It seems like many of the artists are getting eager to learn things like editing especially during a 'social distancing' period such as the one we are in.
Above all, the 'New Normal' in TV production has influenced the artists themselves to a greater degree too.