When the Curtain Rises
Release date: February 28, 2015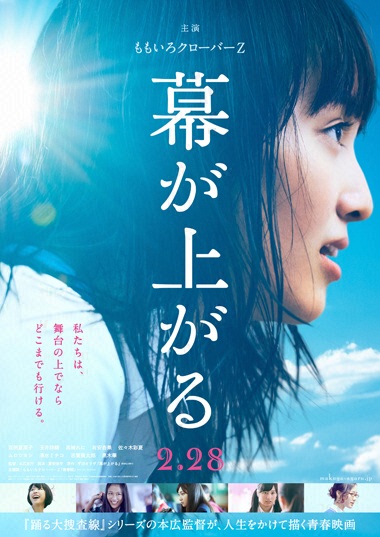 About the Movie
"If we're onstage, we can go anywhere."
A motion picture based on the gold standard of youth novels for all generations.
The director of this movie, Katsuyuki Motohiro, went through a period when he couldn't decide whether or not to continue his filmmaking career. He was then inspired by the performances of Seinendan, the theater company managed by the world-renowned theater director Oriza Hirata, and became devoted to the world it presented. This was how Motohiro came across Hirata's novel When the Curtain Rises, and this encounter turned out to be a priceless opportunity for his return to filmmaking.
Motohiro chose the five members of the "idol" girl group Momoiro Clover Z (aka "Momoclo") to star in the film adaptation. "When I first read the novel When the Curtain Rises, I couldn't help but ask Mr. Hirata if he had Momoiro Clover Z in mind when he wrote it because the characters were so similar to the members," says Motohiro. But Oriza Hirata responds, "Truth be told, my feelings were equal parts hope and uneasiness." The members of the group attended Hirata's acting workshops and were thoroughly trained as actors before the shooting began. The five proved themselves to be quick on the uptake, which surprised Hirata. He comments, "Many people in the audience will likely be surprised by the acting abilities of the Momoclo members. They made astounding progress as actors. The ever-evolving idols have taken another step forward."
The screenplay is by Kohei Kiyasu, who took Japanese cinema circles by storm with The Kirishima Thing. The supporting cast is also superb. Haru Kuroki plays the new teacher who becomes the driving force behind the high school theater club. Kuroki herself was discovered while acting in student productions and has since become one of Japan's hottest new young stars, receiving the Silver Bear for Best Actress at the Berlin International Film Festival in 2014. The film also features Tsuyoshi Muro, Kotaro Shiga, and Michiko Shimizu, who expand the world of the film with their one-of-a-kind characters and talents.
Staff
Director: Katsuyuki Motohiro
Based on the novel by: Oriza Hirata
Screenplay by: Kohei Kiyasu