Assassination Classroom
Release Date: March 21, 2015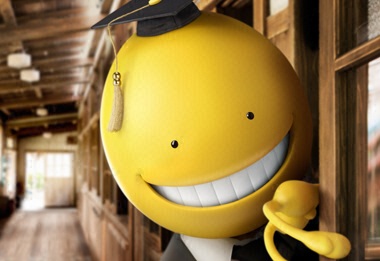 Introduction
Assassination Classroom is a comic that created a buzz shortly after its serialization started in the Weekly Shonen Jump magazine (Shueisha). Over ten million copies of the comics are in circulation, a figure that was reached with staggering speed of less than two years after the first volume came out in November 2012. The innovative setting that mixes the incompatible elements of "assassination" and "education," and the overly humorous (!?) characters all contribute to the work's popularity among readers of all ages. It has now become a megahit comic that is one of the main draws of the weekly magazine.
And to everyone's surprise, Assassination Classroom… No, "Korosensei" is now a live-action movie!
Eiichiro Hasumi, the director of the Sea Monkey and Mozu series of TV dramas and films, will be directing this work, dynamically depicting "Korosensei" as he flies around at Mach 20.
Ryosuke Yamada will star in a movie for the first time as the protagonist. Also, the young main cast of rising new stars includes Masaki Suda, winner of Newcomer of the Year in the 37th Japan Academy Prize (2014), and currently noteworthy names such as Maika Yamamoto, Seika Taketomi, Mio Yuuki, and Miku Uehara. Furthermore, an impressive supporting cast features the accomplished actor Kippei Shiina as Tadaomi Karasuma, the assistant teacher of Class 3-E, and Jiyoung in her first movie role as Irina "bitch-sensei" Jelavić.
Story
"Good luck killing me before graduation!"
Our teacher, the super creature = target!
An enigmatic octopus-shaped creature suddenly shows up as the homeroom teacher of Class 3-E, the worst class in the prestigious Kunugigaoka Junior High School. The government assigns the students of Class E with a secret mission to assassinate the mystery creature, aka "Korosensei," who is threatening to destroy Earth next March. The reward is an astounding 10 billion yen to whoever succeeds!
What will happen to the students forced into this seemingly impossible situation?
And what is the true goal of Korosensei, the surprisingly dedicated teacher?
Cast
Ryosuke Yamada
Masaki Suda
Maika Yamamoto
Seika Taketomi
Mio Yuuki
Miku Uehara
*
Kanna Hashimoto
Seishiro Kato
Jiyoung
Masanobu Takashima
*
Kippei Shiina
Crew
Based on the comic by: Yuusei Matsui, Assassination Classroom (serialized in Weekly Shonen Jump, Shueisha)
Director: Eiichiro Hasumi
Screenplay: Tatsuya Kanazawa
Music: Naoki Sato
Distributed by: Toho