Terracotta Warriors and Ancient China -Heritage from the Qin and Han Dynasty-
Tuesday, November 22 (2022) – Sunday, February 5 (2023)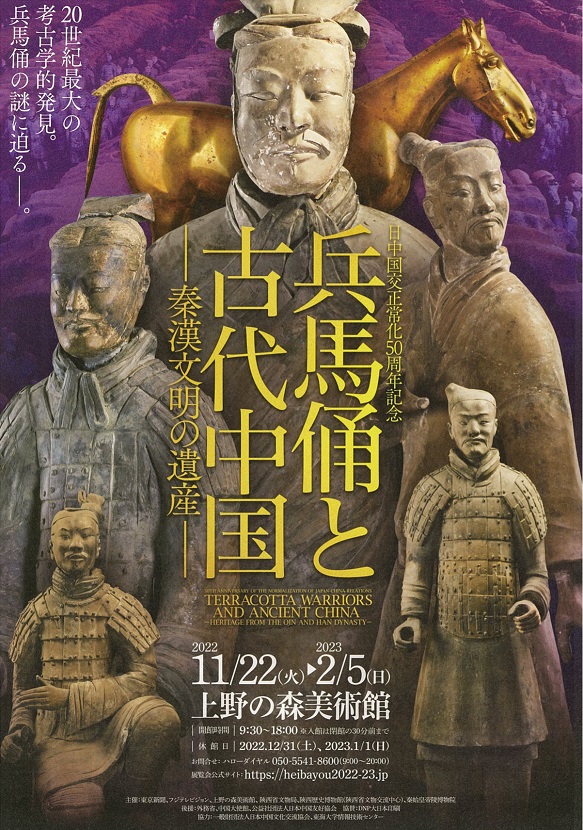 Introduction
50th Anniversary of the Normalization of Japan-China Relations
The largest scale ever! 36 Terracotta Army relics exhibited in Japan!
It will soon be half a century since the pit of Terracotta warriors, Mausoleum of the First Qin Emperor was discovered in 1974.
This year, which also marks the 50th anniversary of the normalization of diplomatic relations between Japan and China, the exhibition, which has been touring three venues across Japan over the past year, will now open at the Ueno Royal Museum.
This exhibition brings to Japan approximately 200 pieces of artifacts, mainly from the 'Spring and Autumn Period' and 'Warring States Period' leading up to the establishment of the Qin Dynasty, as well as those from the Han Dynasty. First-class Chinese cultural artifacts (*) which are displayed in Japan for the first time.
The exhibition is overseen by Kazuyuki Tsuruma, Professor Emeritus of Gakushuin University, who also supervised the history of China for the movie version of "Kingdom." In addition to seeing the latest research results, the exhibition will feature a dynamic introduction to the history of ancient China, including a life-size reproduction of a Terracotta army formation.
*Unique Chinese classification that refers to the finest and most valuable artifacts
General Outline
■Dates:
Tuesday, November 22 (2022) – Sunday, February 5 (2023)
※Closed on: Saturday, December 31 (2022)/Sunday, January 1st (2023)
■Venue:
Ueno Royal Museum