Special Exhibition – POISON
Period: Tuesday, November 1 (2022) - Sunday, February 19 (2023)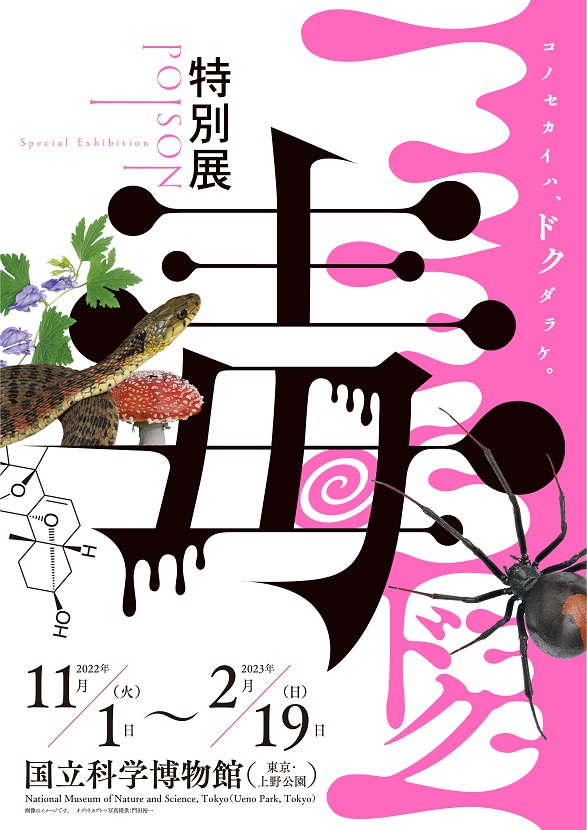 Introduction
'Poison,' a substance that is harmful to living organisms, including humans. This exhibition explores 'poisons' that exist all around us in nature, including animals, plants, fungi, minerals, and those that are man-made. From multiple perspectives of zoology, botany, geology, anthropology, science, and engineering, nine specialists from various research departments will delve into the subject thoroughly and uncover it using rare specimen materials unique to the National Museum of Nature and Science.
The exhibition also introduces the history of organisms that have evolved with 'poisons,'
and its relationship with humans, who have come to make use of it, sometimes as weapons, and other times for medicines, since the ancient times.
Through exploring various sectors within the world of 'poisons,' this is a special exhibition which will also consider the future of us humans too.
Do look forward to this special exhibit at the National Museum of Nature and Science.
General Outline
■Period: Tuesday, November 1 (2022) - Sunday, February 19 (2023)
■Venue: National Museum of Nature and Science (Ueno Park, Tokyo)