RIUSUKE FUKAHORI "YOUR WORLD, MY WORLD."
Period: Thursday, December 2nd (2021) – Monday, January 31st (2022)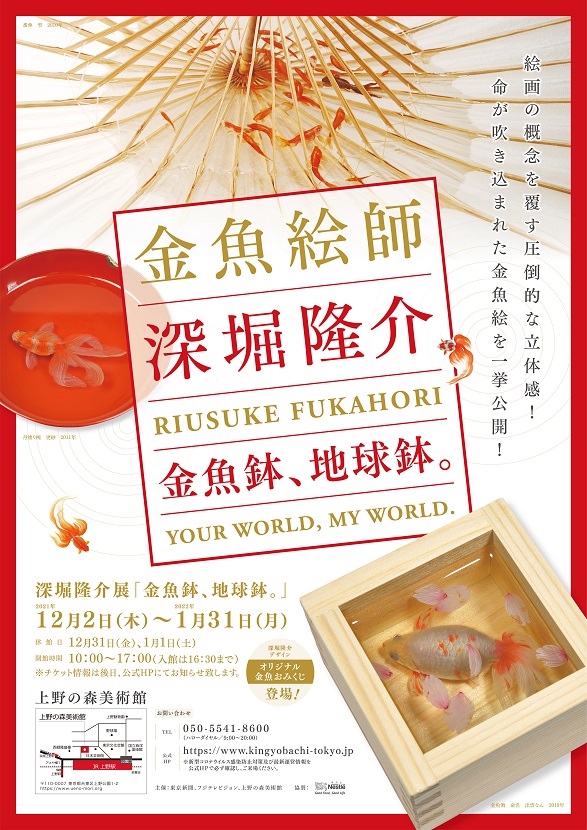 Introduction
Fascinated by the mystique of goldfish, Riusuke Fukahori continues to create.
He is a contemporary artist who has attracted attention for his unique and innovative method of painting goldfish with acrylic paint on transparent resin.
His extremely original technique involves pouring resin into a container, painting a small portion of goldfish on the surface with acrylic paint, and then applying another layer of resin.
By repeating this process, the images overlap each other, and the goldfish appear as if its alive, approaching the viewer with an overwhelming sense of three-dimensionality. The vivid reality of his works may be known as a revolutionary painting style ("2.5D Painting"), that shakes the boundary between two-dimensional paintings and three-dimensional works.
The artist is now highly regarded not only in Japan but also internationally, and have also held solo exhibitions in New York, London, Munich, and Hong Kong.
In recent years, he has been rapidly expanding the scope of his expression and activities by focusing on live painting and installation art. This is the first full-scale exhibition of his works at a museum in Tokyo, featuring about 300 works. Please fully enjoy the mysterious beauty of his goldfish painting creations with a three-dimensional sense of movement.
General Outline
■Period
Thursday, December 2nd (2021) – Monday, January 31st (2022)
※Closed on December 31st and January 1st
■Opening Hours
10:00-17:00
■Venue
The Ueno Royal Museum
■Official Website
https://www.kingyobachi-tokyo.jp/