KING & QUEEN from the National Portrait Gallery, London
Period: Sat. October 10th (2020) 〜 Mon. January 11th (2021)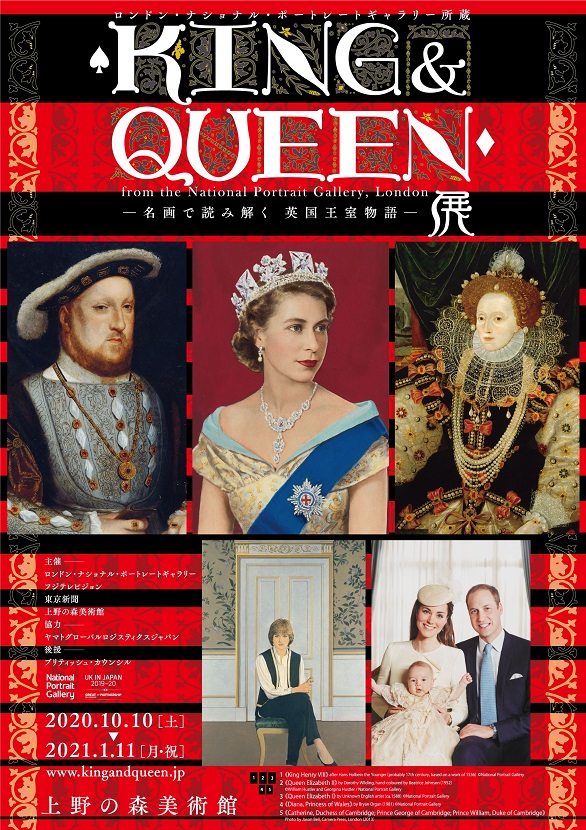 Introduction
There's a story behind every portrait.
The more you know, the more interesting it becomes!
A dramatic history of the British Royal Family through portraits.
From the 11th century to the present day, the tradition of the British Royal Family has been passed down from one generation to the next, and it continues to attract the attention of the world. And throughout the course of the changing royal dynasties, outstanding figures have emerged.
Henry VIII, an absolute monarch ruled as he desired along with his six wives. And, Elizabeth I, who fought off the invincible Spanish Armada, "married her country," and was often known as the "Virgin Queen" having remained unmarried all her life. And then the current Queen, Elizabeth II. Along with the Queen, her son, Prince Charles, and grandsons, Prince William and Prince Harry, the entire Royal Family are so popular that they are frequently in the daily news. Extraordinary figures have created the history of the British Royal Family from the beginning.
This exhibition, held at "The Ueno Royal Museum," which has approximately 90 valuable portraits (paintings & photographs, etc.) of the five dynasties, from the "House of Tudor" to the present-day "House of Windsor," comes to Japan from the National Portrait Gallery in London, one of the world's leading museums for portraits.
Along with the attractive elements of the works, the beautiful and elegant portraits have been conveyed, based on the long, fateful history of the Royal Family.
This is a dramatic exhibition that brings to life many of the dramatic human inter-relations which unfolded. Don't miss out on an exhibition which delivers the "story of the British Royal Family," which is always being made into films and stage shows, captivating people around the world throughout the ages.
Event Outline
■Venue: The Ueno Royal Museum
■Period: Sat. October 10th (2020) 〜 Mon. January 11th (2021)
※Open everyday during the above period.
■Opening Hours: 10:00-17:00 (Open until 20:00 on Fridays)
※Last admission 30min. before closing time.
Official Website
https://www.kingandqueen.jp/