The Morality
Aired on Saturdays from 23:40 to 24:35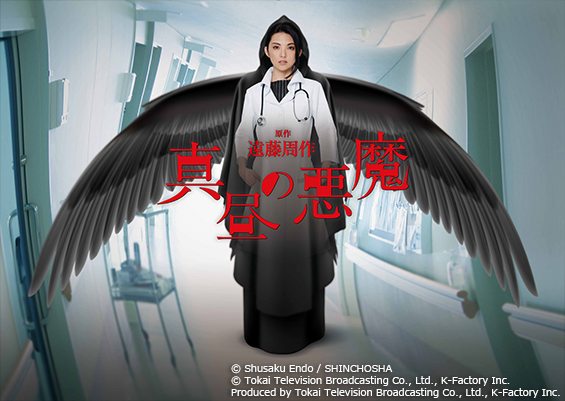 Story
A priest says, "Devil is like dust. It creeps into our mind without us even noticing it…" Yoko Okouchi sits in the back of the room and listens to the priest. She is beautiful yet seems cold, emotionless and disconnected.
A young man named Masato Nanba is an aspiring writer. One day, he feels sharp pain in his stomach and rushes into a hospital. There, Yoko, a doctor in a white lab coat, comes in to treat him. Despite the severe pain, it helps Masato to feel a little better since Yoko cares for him like a sweet Venus. After successful surgery, Masato is hospitalized for a while. He is actually glad to be looked after by Yoko. But he never knew this was just the very beginning of the road to despair and destruction.
Various strange things happen one after another at the hospital. A mysterious note is found in a back of a drawer in a sickroom. A medical accident of an elderly woman with dementia occurs. A girl is in near-death condition by an unknown allergy. A patient's condition worsens by a false medical records… You can't help but wonder, are these really just accidents?
Patients, co-workers, lovers and families… their minds and mysterious cases are intertwined with others in complicated ways. What is the "malice" that roots in human souls? Is it possible for a devil to creep into people's minds?
Cast
Rena TANAKA
Aoi NAKAMURA
Kunio MURAI
Koji OHKURA
Masatoh IBU