My Dangerous Wife
Aired on Tuesadays from 10:00 to 10:54 p.m.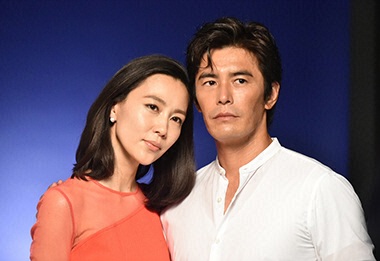 Introduction
Hideaki Ito returns to Fuji TV drama series as the main lead for the third time after the hit series "Searching for My Polestar" and "UMIZARU"! In this gritty crime thriller, Hideaki Ito a plays a cheating husband distraught by his wife who suddenly gone missing. The beautiful yet undeniably evil wife is played by Yoshino Kimura.
Story
The wife had only wished for one thing, and one thing only… but when she realized that her wish would not come true, she began plotting a dreadful revenge on her husband.
Married to a beautiful wife from rich family and running his own café business which he started after leaving a major advertising agency, Kohei Mochizuki (Hideaki Ito) seemed to lead a picture-perfect life that anyone would be envious of. However, underneath the surface, Kohei was tired of having to do things to please his overly-controlling, manipulative wife Maria (Yoshino Kimura). To put an end to his misery, Kohei decides to kill his wife Maria and plots a murder with his lover. One day, as he comes home and finds what appears to be blood on the floor. Maria, however, is nowhere to be seen. Kohei then becomes the suspect in her possible murder.
Cast
Hideaki Ito
Yoshino Kimura
Saki Aibu
Kodai Asaka
Hidekazu Mashima
Midoriko Kimura
Issey Takahashi
Ryuta Sato
Hiroyuki Miyasako
Company Credits
Produced by K-Factory Inc., Kansai Telecasting Corporation