LIKE SHOOTING STARS IN THE TWILIGHT
Aired on Thursdays from 10:00 p.m, starting October 11th, 2018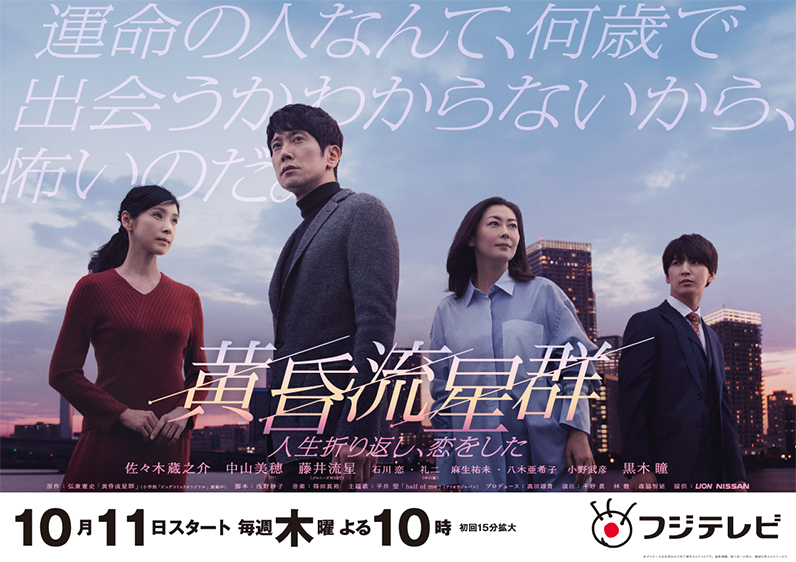 Story
This is a heartwarming story about a group of adults who have reached new turning points in their lives, and begin to wish for fresh new start "like shooting stars in the twilight."
The main character, Kanji Takizawa is a hardworking banker who had been living a work based lifestyle all his life. Relationship wise, he now barely spends quality time with his wife, Mariko Takizawa, and his daughter who has now grown up.
One day, he suddenly gets the order to transfer to one of his client companies, despite his reluctance to be moved. This leaves him in a state of shock and confusion, eventually making him question about his life and identity as a whole. However, whilst being at the rock bottom of his life, he suddenly comes across a poster of a beautiful snow covered mountain. From this moment onwards, he makes an abrupt decision to go to Switzerland. There he meets a special woman called Shiori Meguro who has come to the Swiss Alps on holliday, as they begin to share their life's experiences.
Cast
Kuranosuke Sasaki
Miho Nakayama
Ryusei Fujii (Johnny's West)
Ren Ishikawa
Reiji (comedic duo "Nakagawa-ke" )
Yumi Aso
Akiko Yagi
Takehiko Ono
Hitomi Kuroki
Others
episode1
Kanji Takizawa (Kuranosuke Sasaki) is an elite banker who lives with his lovely wife Mariko (Miho Nakayama) and daughter. After some unexpected turn of events business wise, his life begins to change as he makes his way to Switzerland whilst telling his family that he's on a business trip. There, he meets a particular woman...