Dr.White
Aired on Mondays from January 17th, 2022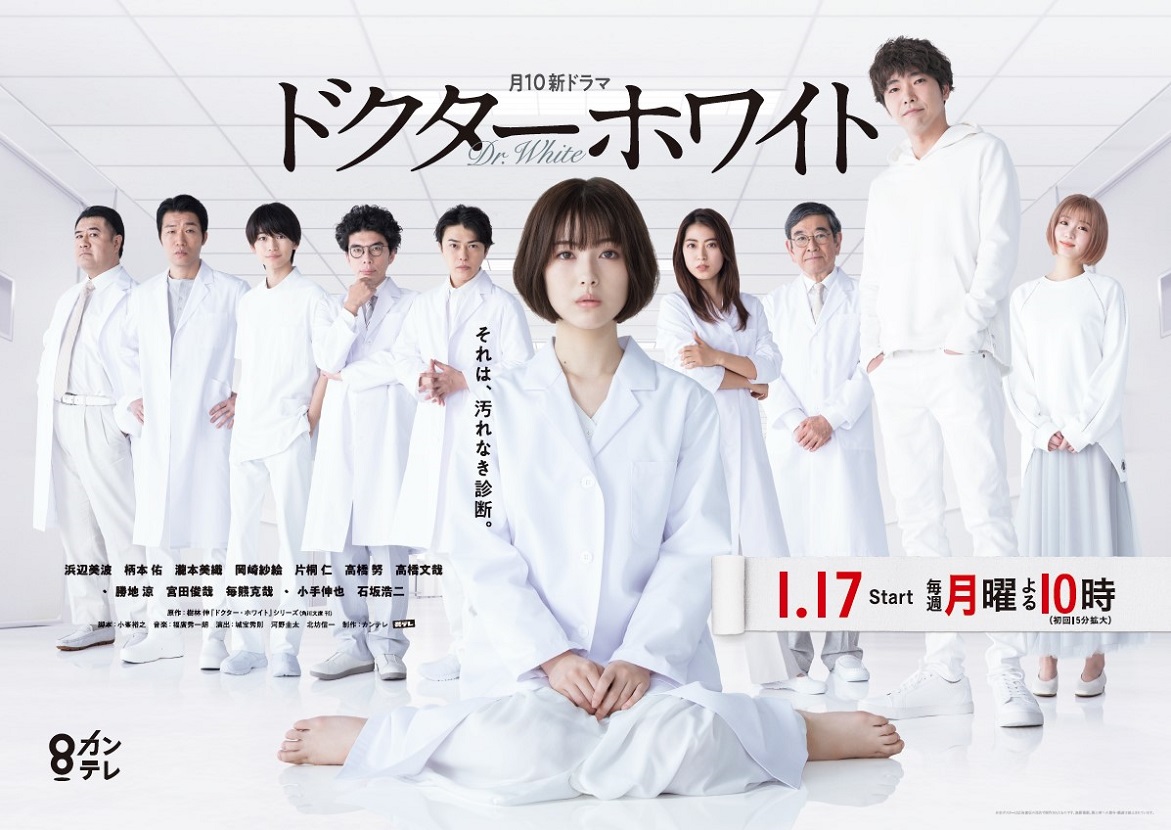 Story
Masaki Karioka (32), a writer for a weekly gossip magazine, finds a beautiful mystery woman, Byakuya (estimated to be 20 years old). Masaki takes Byakuya to Takamori General Hospital, where Iwao Takamori, a family friend, is the director and where his childhood friend, Maria Takamori, is a doctor. He asks Maria for a diagnosis.
Byakuya has no grasp of general knowledge, but it's obvious she has a deep mastery of medicine. Her mind is clear, and it quickly becomes apparent she's a genius. She refuses to contact the police or talk about her background. Still, Byakuya knows that someone is after her, that she is not safe.
When Byakuya's brilliant medical knowledge saves the life of Masaki's ill younger sister, Haruna, Masaki decides to take Byakuya in. He gets his friend Junpei Okumura, a detective, to help him investigate the mysterious young woman's identity.
Takamori General Hospital, meanwhile, is in a difficult situation. Its patient count is down due to repeated medical errors. The director, Iwao, hatches a plan to revive public trust by setting up a team dedicated to diagnosis, promising patients the earliest and most accurate diagnosis possible. He calls it the Diagnosis Consultation Team, or DCT, and adds it to the hospital's mission statement.
Byakuya is appointed to the DCT after accurately diagnosing an illness that even the team's best doctors couldn't. On the DCT, Byakuya gives groundbreaking treatment to regular patients and celebrities alike, a boon to hospital management. Little by little, she works to gain the trust of the doctors who opposed her initial appointment.
Byakuya gets Masaki help her learn the movements of patients outside the hospital to help her come to a diagnosis. Slowly, the two develop mutual trust.
And finally, Masaki closes in on the heart of the mystery that is Byakuya.
Cast
Minami Hamabe
Tasuku Emoto
Miori Takimoto
Sae Okazaki
Jin Katagiri
Tsutomu Takahashi 
Fumiya Takahashi
 ・
Ryo Katsuji
Toshiya Miyata
Katsuya Maiguma
 ・
Shinya Kote
Koji Ishizaka
Others
episode1
Masaki Karioka, a writer for a weekly gossip magazine, finds a beautiful mystery woman, Byakuya. Masaki takes Byakuya to Takamori General Hospital, where Iwao Takamori, a family friend, is the director and where his childhood friend, Maria Takamori, is a doctor. He asks Maria for a diagnosis…