CRISIS
Aired on Tuesdays from 9:00 to 9:54 p.m. Starting from April 11th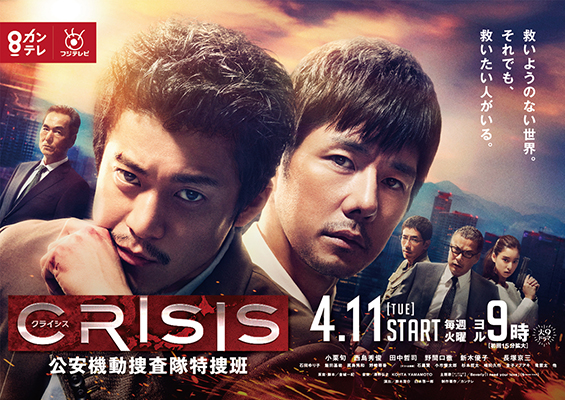 Akira Inami (Shun Oguri) acts as a lively man to others hiding his past as an ex-member of the SDF who was discharged because of a traumatic experience when on a special mission.
Saburo Tamaru (Hidetoshi Niaigima) is a stoic and serious man used to be a member of Public Foreign Affairs Division and observe undercover investigations to reveal Asia-wide espionage or new cults. He was scouted to join the special mission unit after having been transferred to elsewhere from the division due to a particular incident.
Their beautiful action scenes are breathtaking and the storyline is far beyond our imagination. This "off-the-scale" action entertainment drama will knock your socks off!
Cast
Shun Oguri
Hidetoshi Nishijima
Tetsushi Tanaka
Toru Nomaguchi
Yuko Araki
Kyozo Nagatsuka