Code Blue – 3rd Season
Aired on Mondays from 9:00 p.m. Starting from July 17th.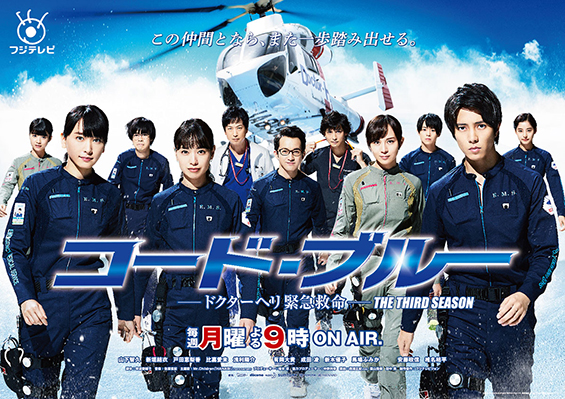 Story
It's been 10 years since the Code Blue team made their first debut on to the medical scene. Each of them have begun to make a career for themselves during this time.
Kousaku Aizawa (Tomohisa Yamashita) has left the emergency services at his last hospital and now works as a brain surgeon, aiming for the best performance every day.
Megumi Shiraishi (Yui Aragaki) has been working hard as a staff leader for flight doctors at Shohoku Emergency Medical Services. Mihoko Hiyama (Erika Toda) wanted to become a flight doctor, but she left the Shohoku Emergency Medical Services to work as an obstetrician. Haruka Saejima (Manami Higa) still works as a nurse for flight doctors, pursuing her career as a top worker. Also, like Megumi Shiraishi, Kazuo Fujikawa (Yosuke Asari) works at the Shohoku Emergency Medical Services as a plastic surgeon specialist. Each member work face to face with life or death situations every day, and they face a new challenge which awaits them. While continuing his work as a medical doctor, he now stands at difficult point in his life regarding his son. What may be the reason behind this?
Also, at this medical centre, new flight doctors join the team. Soma Natori (Daiki Arioka), Shunpei Hanitani (Ryo Narita), Akari Yokomine (Yuko Araki) and Yukimura Futaba (Fumika Baba) who's trying to become a flight nurse. Even though the new staff members are looked down upon by the medical centre, Megumi Shiraishi tries all that she can to train them.
Cast
Tomohisa Yamashita
Yui Aragaki
Erika Toda
Yosuke Asari
Manami Higa 
Daiki Arioka
Ryo Narita
Yuko Araki
Fumika Baba
Masanobu Andou
Kippei Shiina