Cecile's Plot
Aired on Thursdays from 10:00 p.m. Starting from July 13th.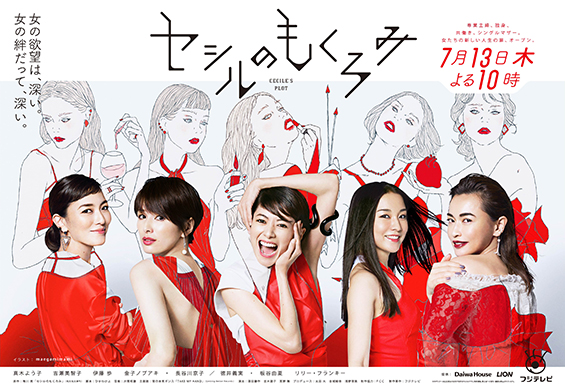 Story
This is a story about single women, housewives, single mothers with children, and those that have a job as a dual-income family, who all try to discover a new path in their lives to find happiness. The original story is based on the Kei Yuikawa's story which was also a serial publication in the popular women's fashion magazine 'STORY,' between 2008 to 2010. The story depicts the main character played by Yoko Maki, who suddenly becomes a fashion model and climbs her way to the top of the industry.
The name 'Cecile,' in the title comes from the French novelist Françoise Sagan's book 'Bonjour tristesse,' in which 'Cecile' is the main character. In the book, she has a very pretty appearance, yet has a terrifying plot in her mind. Therefore, the name Cecile may be linked to things like a woman's anxiety and other areas of emotion and mind games. In the drama, many kinds of women, such as sports personalities and beauticians will make a special appearance to depict the different life styles of women.
The main character in the drama is Miyaji Nao (Yoko Maki), who is a very modest woman, spends her days as a housewife and lives with her husband and junior high school son. Even though her lifestyle is not luxurious, small things in her everyday life makes her happy. Like going out to the local grocers to buy her son's dinner ingredients.
One day, Nao gets contacted by a famous fashion magazine 'Vanity,' asking her if she's interested in becoming one of their models. Since this day, she makes her way into an industry which she has no clue about. A fashion industry which mainly focuses on the outer appearance is something that she isn't fond of. However, after working with writers and models, her negative image gradually transforms into something more positive, and her sense of values begin to change.
Things like jealousy, pride and relationship rivalry are some of the things that most women feel affected by. How will Nao survive inside a world of 'Cecile.'
Also, when we talk about fashion magazine models, it's more directed towards the readers, and is completely different from professional modelling. How Nao will gradually open herself up in this new world is also something to watch out for in the drama.
Cast
Yoko Maki
Michiko Kichise
Ayumi Ito
Nobuaki Kaneko
Yuriko Ono
Mashima Hidekazu
Kei Ishibashi
Shoko Ito
Eriko Sato
Emma Fujisawa
Kyoko Hasegawa
Yoshimi Tokui
Shohei Uno
Ruiki Sato
Masato Kato
Yuka Itaya
Lily Franky