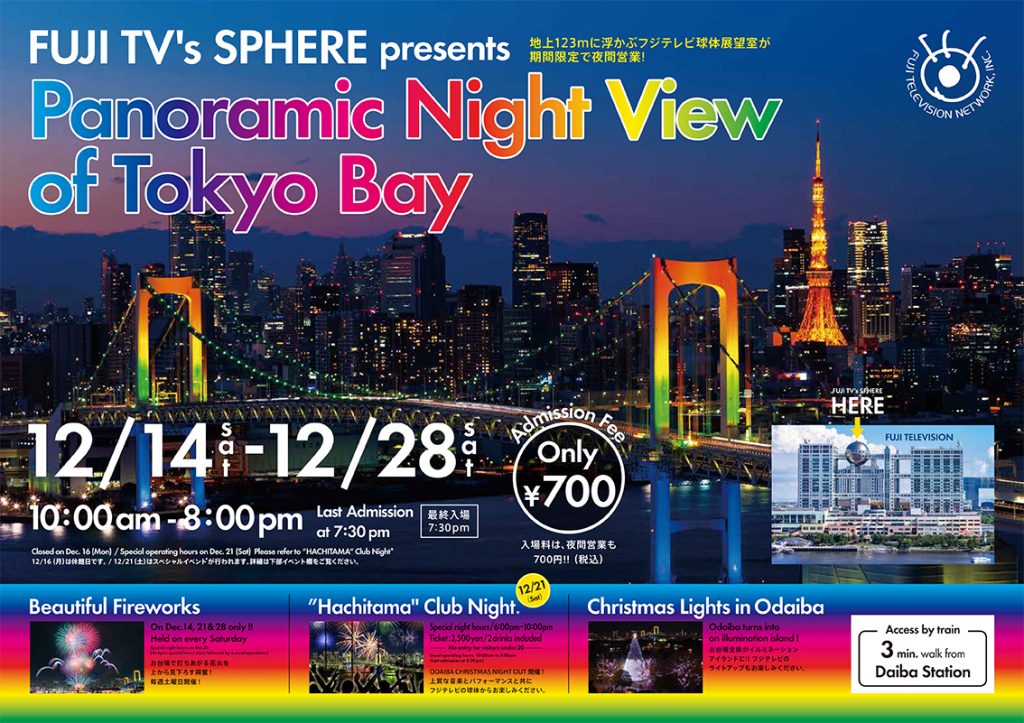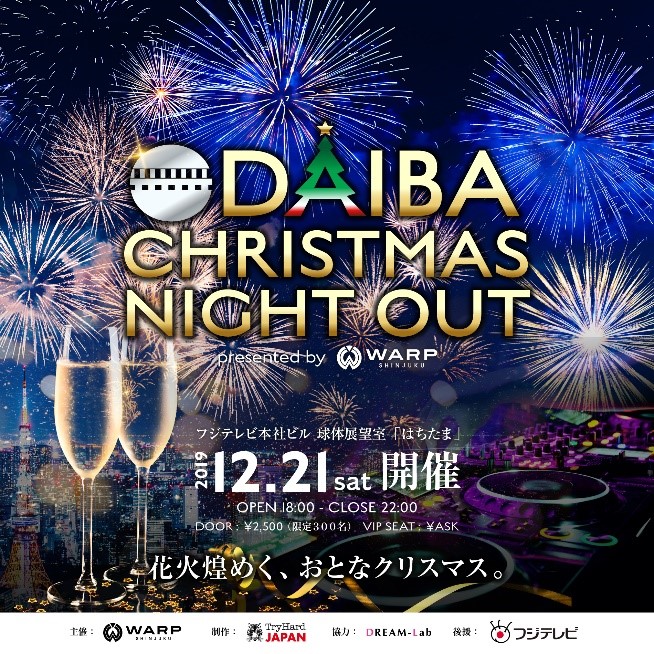 FUJI TV will be extending the opening hours of the "HACHITAMA" Spherical Observation Room with an additional two more hours at night for a limited period, from Sat, Dec.14th to 28th, 2019 (closed on Mon Dec.16th).
As part of its plans to boost the night-time economy of international visitors, the opening hours extension comes as a follow up to last year's successful try-out in December for the first time in 10-years, when many visitors from around the world were also able to experience the magical night time view of the Tokyo Bay Zone area.
Located approximately 123m above ground-level, the famous "HACHITAMA" Spherical Observation Room is a symbolic landmark of Fuji TV. You can experience a panoramic view of the Tokyo Waterfront Area and be emerged with a scenic viewing experience of Tokyo's most famous hotspots including Rainbow Bridge, Tokyo Tower and even the Tokyo Skytree. Be prepared for an experience beyond your wildest dreams.
And during the above period, "Odaiba Rainbow Fireworks 2019" can be enjoyed on Sat, Dec.14th, 21st and 28th. This will be a perfect opportunity to witness one of the most extravagant firework displays in Odaiba, as well as a superb view of Tokyo's Christmas illuminations. (※Please note that the firework display may depend on the weather, and may be canceled in unforeseen circumstances)
Also, on Sat, Dec. 21st, a special event "ODAIBA CHRISTMAS NIGHT OUT" will be held giving guests an opportunity to enjoy some beautiful firework displays during the winter season with great music and special performances.
DETAILS OF HACHITAMA" SPHERE'S Night-Time Extension
■Period: Sat, Dec. 14th, 2019 – Sat, Dec. 28th, 2019 (Closed on Mon Dec.16th)
■Hours: 10:00 ~ 20:00 (Last Admission 19.30) ※Sat. 21st ⇨ Last Entry 16:30/Close at 17:00
■Admission Fee (tax inc.):
Adult (Senior High School Students and above) 700yen
Children (Junior High School Students and Elementary School Pupils) 450yen
■Venue: Fuji Television – "HACHITAMA" Spherical Observation Room
■Main Organizer: Fuji Television Network, Inc.
■Official Website: http://www.fujitv.co.jp/gotofujitv/hachitama/index.html (Japanese Only)
Special Event: ODAIBA CHRISTMAS NIGHT OUT
■Date: Sat, Dec.21st,2019
■Hours:18:00~22:00
■Venue: Fuji Television – "Hachitama" Spherical Observation Room & 24th Floor Event Area
■Tickets: 3,500Yen (tax inc)/2 Drinks included/Limited on a first come first serve basis for 300 guests.
※Please note that you will not be able to enter on the night if all the tickets have already been sold-out.
※Guests of 20-years and over may only enter the event.
※Tickets will be on sale from 17:00 at Fuji TV's first floor box office.
■Official Website: https://odaibanightout.com (Advanced Tickets Available from the website-Japanese Only)