JUNK SPORTS
Aired on Saturdays from 5:00 p.m.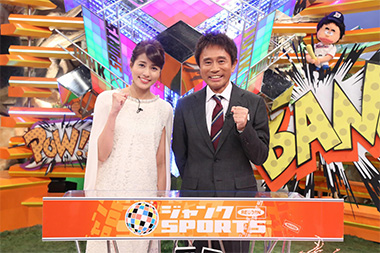 The hugely popular program returns as a regular program after 8 years. In the show, Masatoshi Hamada (MC) cross talks with various famous up and coming athletes, and those who are already successful in the world of sports. Many athletes invited as guests into the studio will have an exciting cross talk with the MC!
Also, there is a new corner, which tests out the athlete's physical abilities. From sumo wrestlers to ultimate fighters, there are many competitions tailored especially for the participating athletes.
Fuji Television's sports and variety team have tagged up to bring you this new style of program for everyone!