TV Production "New Normal" ~ 'NEC KARUIZAWA 72' Golf Tournament 2020
Even though it's "hard to accept this as the New Normal," a major sports broadcast was aired under strict COVID-19 virus prevention measures.
'NEC KARUIZAWA 72' Golf Tournament 2020 was held from August 14th to 16th, amid COVID-19 pandemic when many competitions were being cancelled one after another. And, Shuichi Eto (Technical Producer) and Yoshinori Ozawa (Technical Director) from Fuji Television's Technical Department in charge of this broadcast, both believe its "hard to accept this as the 'New Normal.'"
■What are some of the changes you've discovered from the previous golf broadcasts, bearing in mind the new focus on COVID-19 prevention measures?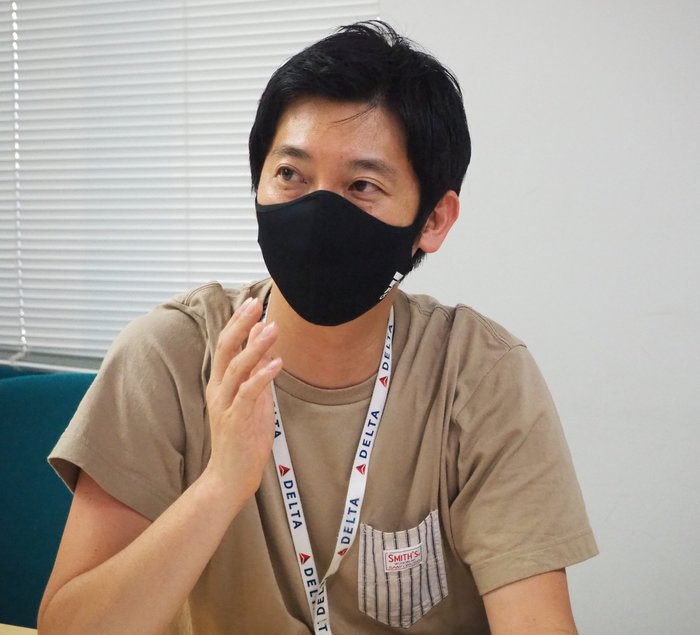 Shuichi Eto (Technical Producer): Since the COVID-19 pandemic began to spread rapidly from around April, the Sports Department, Technical Department, and an occupational physician had begun to discuss virus prevention measures together.
First of all, the most important thing that we were focusing on at the time was making sure to wash our hands. The physician told us that this routine was so crucial. Even though there are a total of about 100 staff and crew members involved, we explained about this to each and every one of them very carefully. However, since no spectators came to the tournament, there weren't any toilet facilities located around the golf course. So, we especially ordered hand washing stations to be positioned around the holes.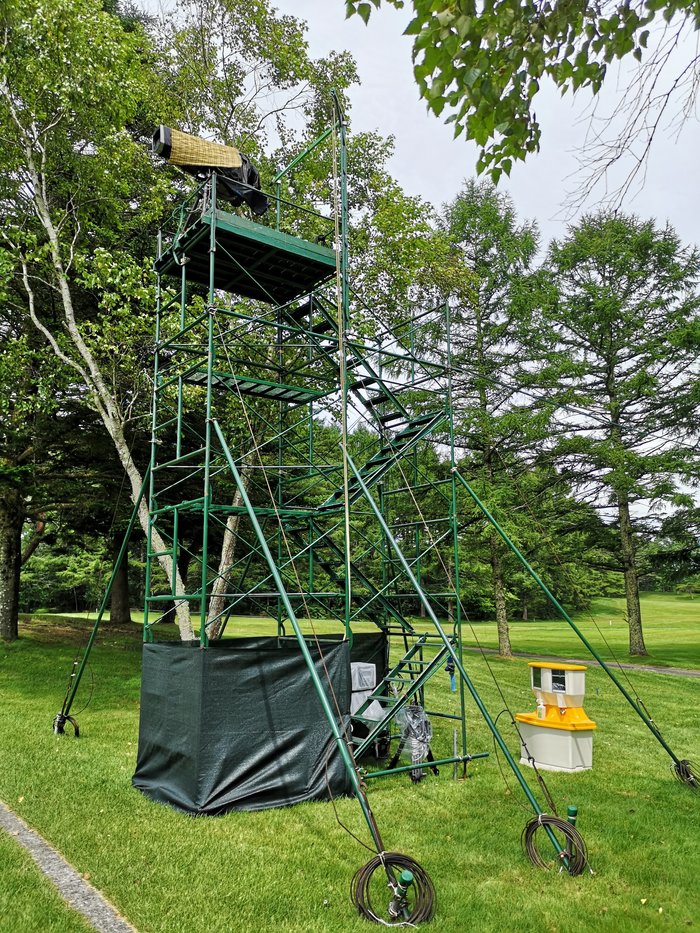 Since the major reasons for virus spreading, are due to infection from getting into contact with 'virus infected droplets within 2 meters,' or touching the areas of one's face with virus contaminated hands, we urged all staff members to wash their hands thoroughly.
A hand washing station was positioned at about every two-hole intervals. We also placed many alcohol sprays around the course and encouraged everyone to use it as much as possible.
■We have also prepared other photos from the tournament, so could we go over them too?
Shuichi Eto: Let's talk about the OB VAN (outside broadcast van). Inside it, we are in danger of creating the so-called 'Three Cs' (closed space, crowded places and close-contact settings) environment. However, it is necessary to maintain inside of the truck cool, so that equipment doesn't overheat, therefore we can't leave the door open for ventilation purposes. Also, if we have it open, the inevitable condensation could occur which may damage the equipment.
So, bearing all of this in mind, we decided to place a spot cooler (a type of air conditioner) outside of the truck. Then, bringing in cool air into the truck, we were able to promote air circulation inside. We also installed ducting for the placement of an exhaust ventilation system. In this way, the spot cooler and the ducting equipment worked side by side effectively.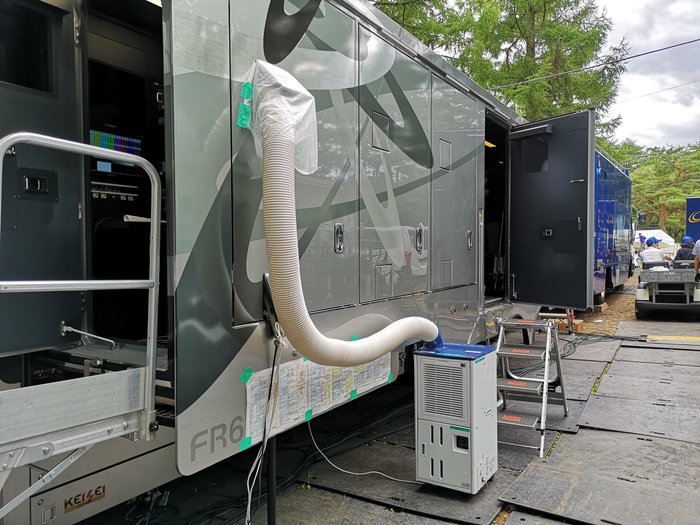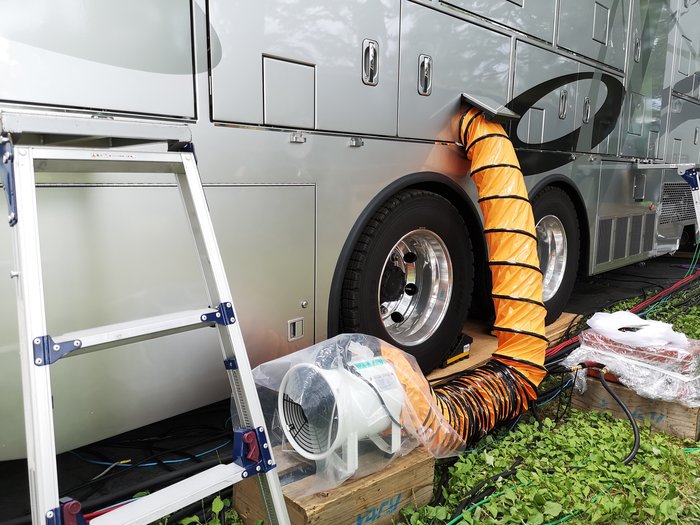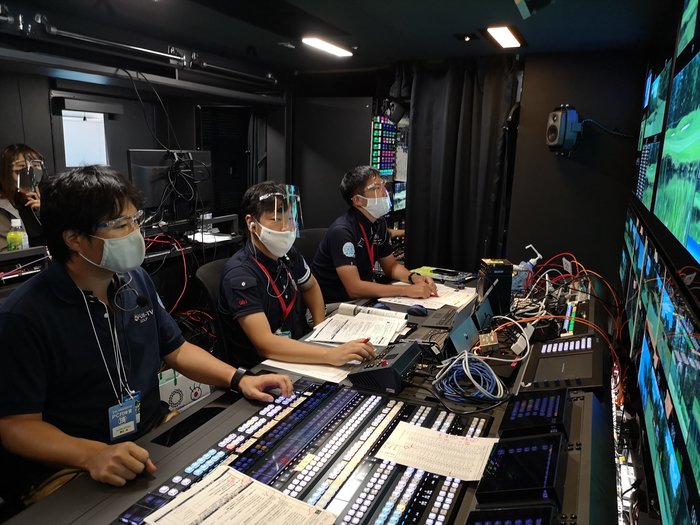 Yoshinori Ozawa (Technical Director): When we asked whether large-sized ventilation fans were possible, they told us that they could provide one for us!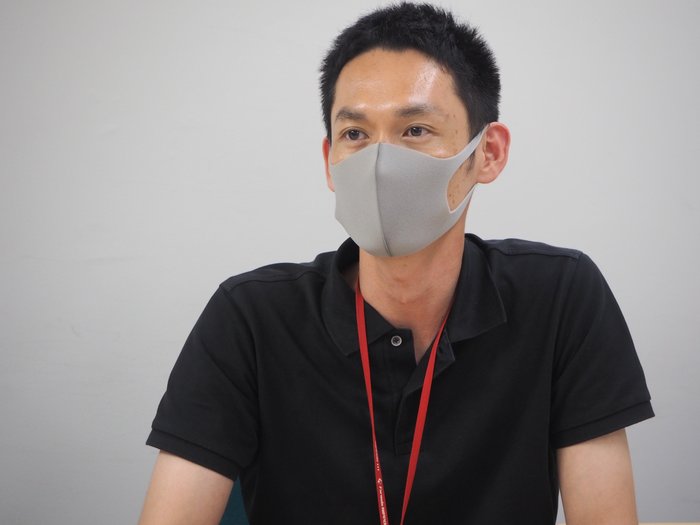 In addition to the OB VAN (outside broadcast van), we also worked inside specially constructed prefabricated huts on site. Here's a picture of some ventilation fans, and the small one on the right is just a regular one and the left one is a custom-made larger version. To make sure we have the best possible ventilated environment inside the huts, this was something we also decided to install.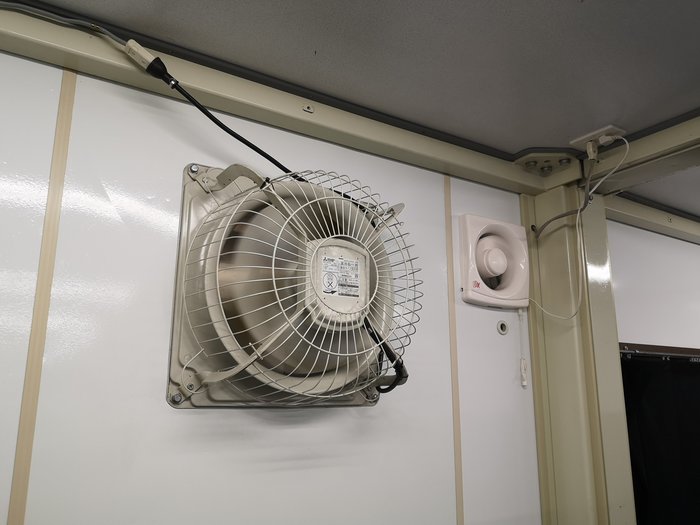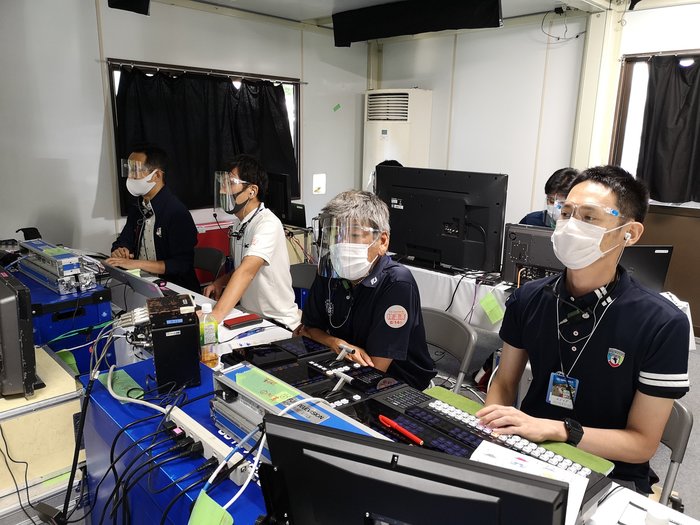 Shuichi Eto: Together with an occupational physician, we are constantly checking for up to date announcements from the health center, to always be taking the relevant measures necessary such as the use of face shields and acrylic partitions.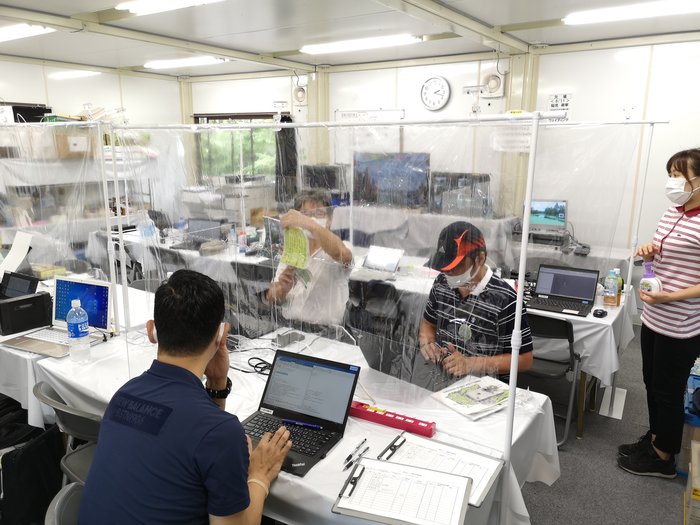 Yoshinori Ozawa: We brought in acrylic partitions and whilst assembling it, we were asking each other things like, "which one is higher? are we assembling it correctly?" If all of this were to become the normality in the future, would this be the 'New Normal'? (laughs)
Having lunch in silence, without any form of interaction…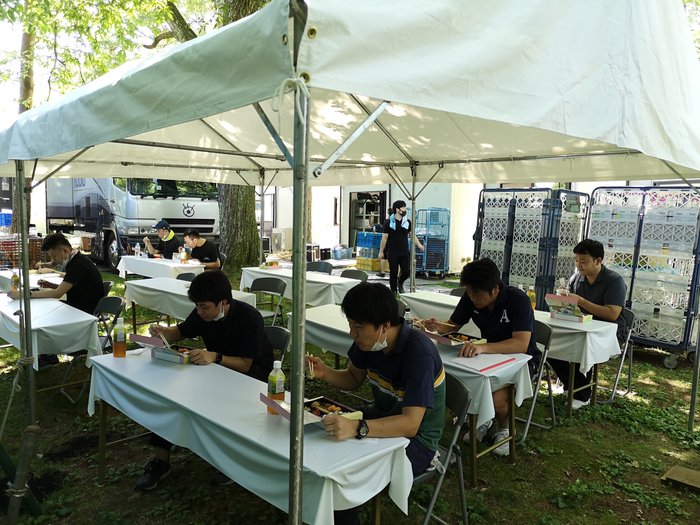 Shuichi Eto: I've heard that some of the most common causes of infection spreading, are 'eating together'and 'smoking.' All the hard work could be ruined from just one single meal. Eating together is enjoyable and of course we all want to talk to one another during it, but I encouraged everyone to eat in silence, also reminding them to put masks back on, when talking with one another afterwards.
Yoshinori Ozawa: And, as we weren't eating out, we all had dinner in each of our rooms without any social interaction. Also, during the competition, we used to preview the videos from each day of the tournament for feedback purposes, but this time round, we used video conferencing tools as an alternative.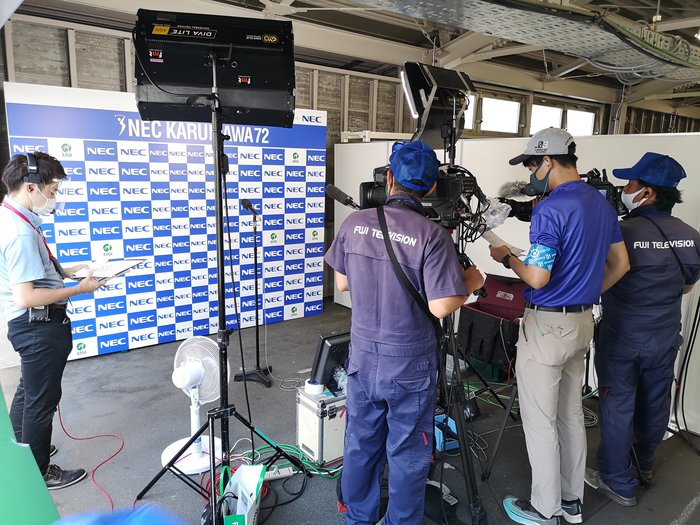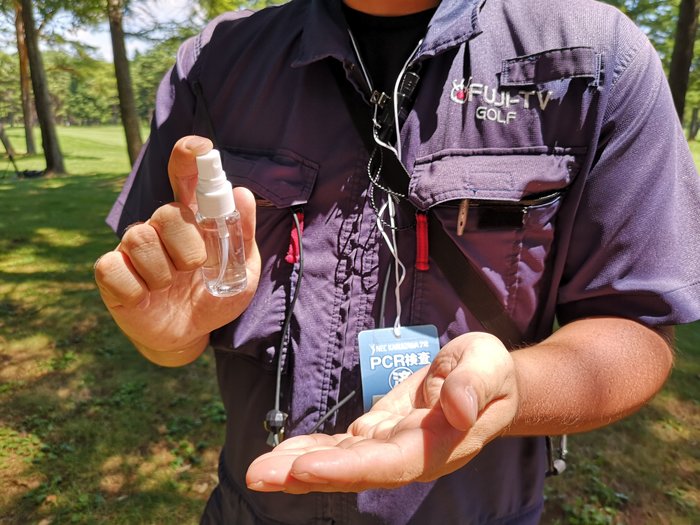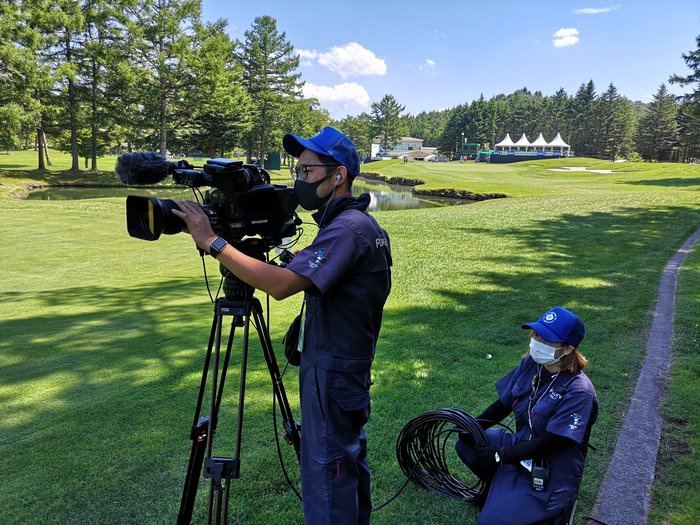 Remotely controlled on-screen captioning
 ■We heard that Graphics such as on-screen captioning was added from a remote location?
Shuichi Eto: This time round, we did all the Graphics work back at the Fuji TV head office rather than in Karuizawa. We needed to reduce the number of people involved for infection prevention, so this was for us, a first time try out.
However, there is a time lag of about 1 to 2 seconds, due to the length of time it takes for sending out visual data to the head office and then receiving Graphics captioned on-screen data back. So, we felt that we required a lot of effort and hard work by the commentary announcer.
And while the crew members working with Graphics used to be able to check all of the visual data on site, we were only able to work with the limited amount of data which we sent back to the head office. I think it was a big change for the production team.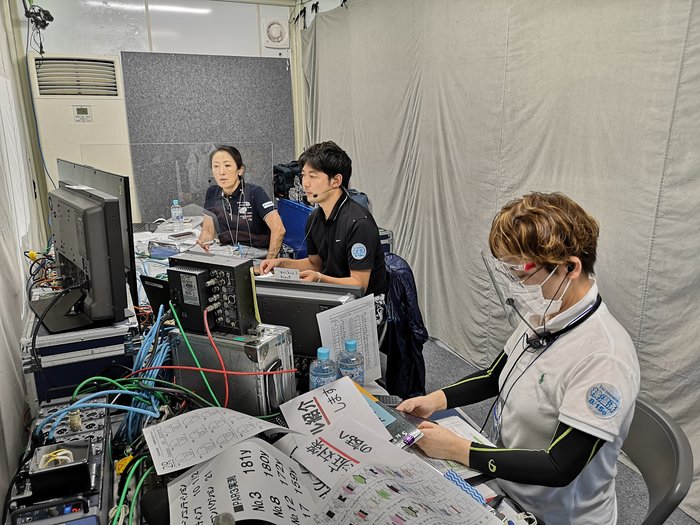 ■Amid 'Corona Shock,' are there any technical areas you hope to challenge with in the future?
Yoshinori Ozawa: Transmission circuit are sure to get thicker and less costly, so there will hopefully come a time when we will be able to send back all of the video data. So, I think remote production will progress for other live broadcast related works such as 'video switching,' which may be increasingly done at the head office. So, broadcasts may be controlled remotely, such as staff members working with OB VAN (outside broadcast van) not having to actually go to the site every time a tournament goes on-air.
Shuichi Eto: We also received some positive feedback for the broadcast, praising the 'beautiful TV camera shots of nature' around the course. Since the tournament had no spectators, the surrounding scenery was captured on screen more than usual. We tried to position our TV cameras so that it wouldn't be seen in the shot, and by doing this, we were able to create a visual picture defined by the world of natural beauty, which the viewers could be immersed within.
 ■I see. There was this indescribable feeling when I was watching the program. I guess the beauty of nature was one of the reasons!
Shuichi Eto: Since there are no spectators, it may also be an opportunity to try out more wild filming techniques like with drones and shooting from golf carts, in order to capture visual footages with more detailed movements. We actually did some tests for this in Karuizawa.
A behind the scenes insight from the live-commentary announcer
In the interview with the technical team, we understood that working with Graphics production from a remote location, puts a lot of strain on the live commentary. We spoke to announcer Shinichi Tanioka, who was in charge of the commentary for the tournament.
 ■What were your impressions of the golf coverage with no spectators?
The 2019 'NEC KARUIZAWA' golf tournament was held just two weeks after the Japanese golf player, Hinako Shibuno, won the women's British Open. There were a lot of spectators eager to catch a glimpse of her in action after this, so the difference between this year and last year was quite big. I thought to myself, "oh, this is what golf without having spectators is really like! It's so quiet."
For example, the players were also talking to me about this, saying that it's a solitary feeling to have no applause from the spectators when a player makes a birdie putt.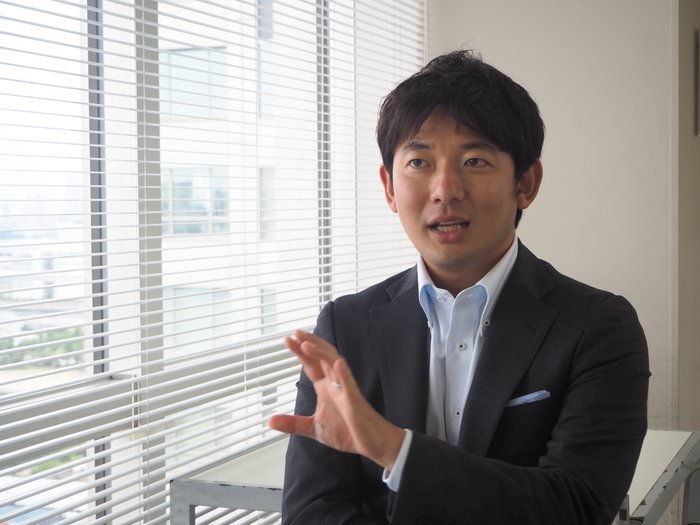 ■How about the live commentary? Did you experience any challenges as a result of time lags for on-screen captioning, since this process was done remotely from the Fuji TV head office?
Yes. There were no on-screen captioning at all for the first one or two seconds. Usually the score comes up with the name of the player. And when the screen is switched over, I read it and refer to things like the differences in scores with the tournament's leader or something like that. But this time, I had to look at other monitors on site to confirm all of this simultaneously.
There are many reasons as to why the players being shown on screen are switched over. They include situations like when the scores are being quite competitive, or if one's a previous tournament winner and so on. Especially in the case of golf, if the players are from the 'Golden' or 'Millennial' Generations etc.
In times when there were no on-screen captioning, I had to instantly determine why the screen had switched over and think about which above pattern it was for and instantly react to it. On the other hand, all of this made me realize that I was quite dependent on them in the past.
It all also tested my skills as an announcer, and I realized that I should communicate with the director more than ever, and that we should confirm things which we didn't need to before.
■Finally, will announcers be able to work remotely from the head office in the future?
As announcers, it is our important duty to interview the players themselves. As there were only authorized members on site, it was easy for people to notice me and there were many occasions when players would drop by for a chat.
 ■What changes have you experienced as an announcer, not just for this broadcast, but during the 'Corona Shock' so far?
First of all, we are spending less time now in the studio. The number of people who can be on screen at any one time has been reduced because of the distance we all have to take between one another on a program. So, for example, I used to sit in the studio until the end of the show, even after my segment was over, but this is now no longer the case.
Also, the acrylic partitions make it difficult for us to sense some of the subtle changes in the person sitting next to you. For sports broadcasts, we have to judge how amazing a play was by closely monitoring a commentator's reaction, so that us announcers can follow up with a comment from them if needed. Therefore, sometimes having a partition between us made the whole process a lot more challenging.
■What are some of the new challenges you can embark on as a result of the Corona period?
In the case of golf broadcasts, I think we can be bold enough to try out new production techniques, especially during periods with no spectators. Like how Shuichi Eto was saying, about the possibility of shooting from golf carts via mobile signals.
But nothing is comparable to seeing the winning putt at the end of a competition, with the player on the green surrounded by excited spectators eagerly watching on!
Spectators and sports must come together. So, we sincerely hope that having no spectators will not become the 'New Normal' in the future.