YUDO
Release Date: February 23, 2022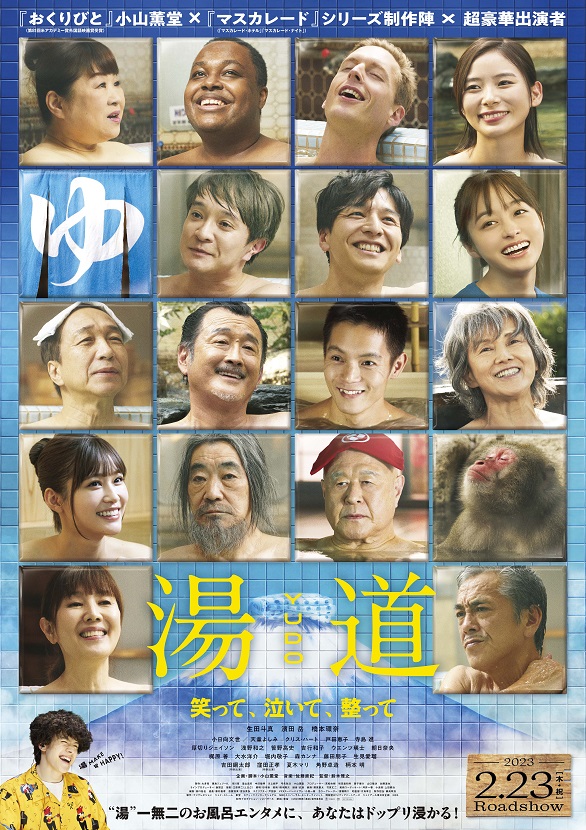 The Japanese spirit is embodied in "the tea ceremony", "ikebana flower arranging", "calligraphy" and yes, even "the bath." Curative effects of viewing: Laughter and Tears. Steep yourself in a unique form of bathing entertainment! You'll laugh, cry and be invigorated! In 2023, soak in a wellspring of laughter and tears!!
Introduction
Kundo Koyama is a Renaissance man of many talents and ideas. Known most notably as screenwriter for the celebrated 2009 Academy Award winner for Best Foreign Language Film Departures ('08), Koyama has also penned some of Japan's most popular television series and is the father of Kumamoto Prefecture's bear mascot "Kumamon", which launched a nationwide trend by every prefecture to launch their own local mascots. Now Koyama sets his keen sights on a unique aspect of Japanese culture - bathing - with an original screenplay that pays homage to the "way of the bath," as a worthy art form he has been advocating since 2015.
The film stars popular actor Toma Ikuta who has amassed a brilliant career across the television drama, film and stage genres including Japan's traditional kabuki. Ikuta poignantly renders the conflicted soul of Shiro Miura, a young man who reluctantly returns home from the big city when his business flounders. Co-stars include the immensely talented actor Gaku Hamada as Shiro's younger brother Goro, and trending versatile actress Kanna Hashimoto as Izumi Akiyama, a part-time worker at a public bathhouse run by the two brothers.
The film is directed by ensemble master Masayuki Suzuki who is best known for directing such hits as the HERO and Masquerade film series.
Next spring, prepare to be steeped in the warm curative waters of a new genre of "bathing entertainment" sure to purify and refresh both your body and soul!
Story
Architect Shiro Miura (Toma Ikuta) suddenly returns to his country hometown and the family business he left behind years ago- a public bathhouse called "Marukin Hot Springs." Since the recent death of his father, Shiro's plan as eldest son is to close down the antiquated bathhouse and replace it with state-of-the-art condominiums. But he meets with a cold reception from his younger brother, Goro (Gaku Hamada), who has kept the bathhouse open since their father's passing.
One day when a boiler room fire breaks out putting Goro in the hospital, Shiro has no choice but to spend the next few days as bathhouse manager with the aid of trusty part-time worker and bathhouse devotee, Izumi (Kanna Hashimoto). There, he encounters a host of bathhouse-loving customers, from elderly couples to families and gets a glimpse of the sheer happiness and democratizing power the place offers.
As he gradually learns the ins and outs of the trade and encounters a host of lovable people, Shiro finds the constriction inside him begin to melt.
Cast
Toma Ikuta
Gaku Hamada
Kanna Hashimoto
Fumiyo Kohinata
/
Yoshimi Tendo
Chris Hart
Keiko Toda
Susumu Terajima
Atsugiri Jason
Kazuyuki Asano
Takashi Sasano
Yoshiyuki Kazuko
Eiji Wentz
Nao Asahi
Zen Kajihara
Yosuke Omizu
Keiko Horiuchi
Kanna Mori
Tomoko Fujita
Meru Nukumi
Kotaro Yoshida
Masataka Kubota
Mari Natsuki
Takuzo Kadono
Akira Emoto
Others