TOKYO REVENGERS 2 Part.1 / Part.2
Release Dates: Part.1 "Destiny" April 21, 2023 / Part.2 "Finale" June 30, 2023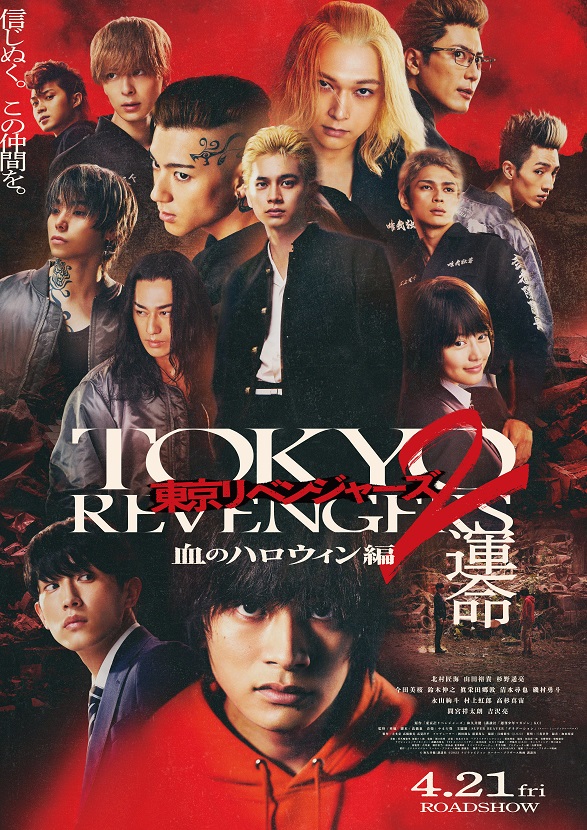 About the Movie
The latest sequel to the live-action adaptation of "TOKYO REVENGERS", the #1 box office hit of 2021! ―"Bloody Halloween"
The most tear-jerking episode in the original manga! To realize a complete live-action adaptation, making the film in 2 parts was a MUST!
Part.1 "Destiny" 4.21
The tragic events that tore apart the six founding members of the Tokyo Manji Gang.
Part.2 "Finale" 6.30
The epic battle between best friends that threatens to destroy the Tokyo Manji Gang forever.
STORY
"I'll save you! Over and over! I'll never give up until I find a future where you're still alive!"
Takemichi thought he had saved his ex-girlfriend Hinata…but once again, she was killed by the Tokyo Manji Gang, an organization that had grown violent and corrupt. This time, she was killed right in front of his eyes…
The key to saving Hinata was linked to a tragic event that had torn apart the six founding members of Tokyo Manji…Six best friends who swore to die for one another. Why did they turn against each other? The epic battle on Halloween, October 31, would pit best friends against each other and threaten to destroy the Tokyo Manji Gang.
"I don't want any more people to die!"
As past tragedies and broken bonds collide, will Takemichi be able to stop a disastrous outcome and save Hinata as well as the future of Tokyo Manji?
Cast
Takumi Kitamura
Yuki Yamada
Yosuke Sugino
Mio Imada
Nobuyuki Suzuki
Gordon Maeda
Hiroya Shimizu
Hayato Isomura
Kento Nagayama
Nijiro Murakami
Mahiro Takasugi
Shotaro Mamiya
Ryo Yoshizawa
©和久井健/講談社  ©2023 フジテレビジョン ワーナー・ブラザース映画 講談社