Yowamushi Pedal
Release Date: August 14th, 2020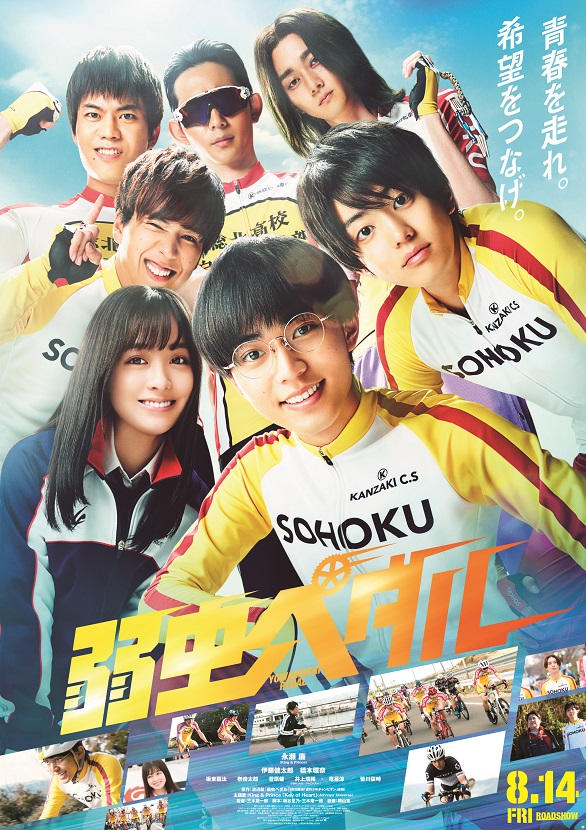 Story
Sakamichi Onoda (Ren Nagase), a high school student from Chiba who rides his bicycle to Akihabara, is not good at sports or has any friends.
One day, he is shocked to find out that the anime research club which he had always wanted to join had been suspended.
However, eventually, Shunsuke Imaizumi (Kentaro Ito), a classmate who saw him ride his bicycle on a hill, challenges him to a race.
Sakamichi, who discovers the joys of cycling for the first time, is invited by his classmate Shoukichi Naruko (Ryota Bando) who he met in Akihabara, to join the cycling club.
He unleashes his extraordinary talent as a cyclist through encounters with respected seniors, including manager Miki Kanzaki (Kanna Hashimoto), as well as, Shingo Kinjou (Ryo Ryusei), Yusuke Makishima (Shuntaro Yanagi), and Jin Tadokoro (Ken Sugawara).
Eventually, the day of the big prefectural tournament arrives.
Sakamichi, is chosen as a regular member of the team, and together with the "friends" which he made for the first time, they determinedly participate in a race which has a place in the inter-high school competition on the line...
Cast
Ren Nagase
Kentaro Ito
Kanna Hashimoto
Ryota Bando
Shuntaro Yanagi
Ken Sugawara
Mizuki Inoue
  ・
Ryo Ryusei
  ・
Sarutoki Minagawa