The Promised Neverland
Release Date: Dec.18th, 2020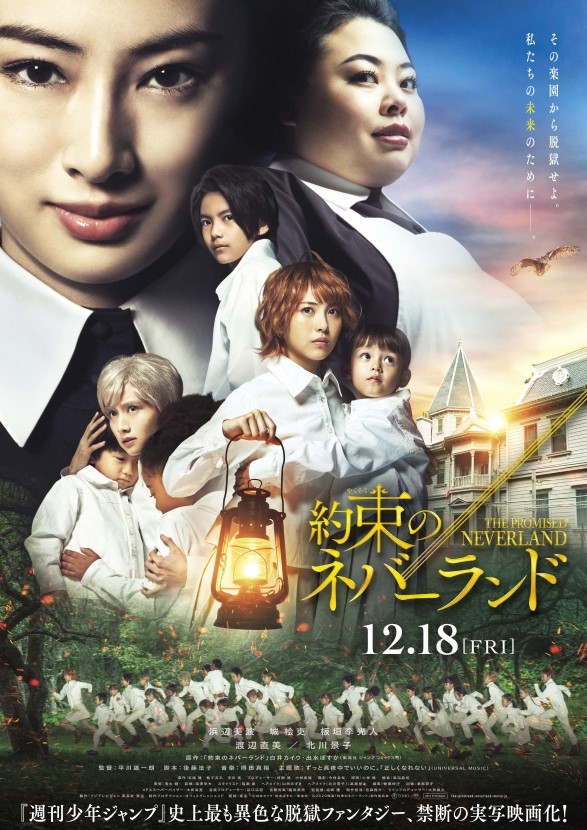 Introduction
Over 21 million copies sold worldwide! An extraordinarily suspenseful prison break story!
The "forbidden" live-action film adaptation will come to the big screen!
The Promised Neverland (Written by: Kaiu Shirai, Illustrated by: Posuka Demizu) is a much talked about extraordinarily suspenseful prison break story that has been serialized in Weekly Shonen Jump magazine (Published by: Shueisha, Inc.) since August 2016, followed up by an anime television series adaptation being premiered from January to March 2019. As of October 4, 2019, when the 16th volume came out on shelves, the original comics had over 16 million copies in print worldwide, and a second season anime television series is set to premiere in 2020.
"Children being happily raised in an orphanage were actually being reared as edible children to be offered to "higher" species." This work with this shocking premise has received Kono Manga ga Sugoi! (This Manga is Amazing!) Male Readers' Top1 (Takarajimasha, Inc.), the 63rd Shogakukan Manga Award (Boy's category), the Manga Shimbun (Manga Newspaper) Award 2017 among other domestic awards, on top of various other manga awards from overseas including those from France and South Korea. The Promised Neverland (also known as "Yaku-Neba" for short) goes against the conventional expectation of Jump comics, but grabbed the hearts of readers with its depiction of boys and girls working together to overcome an overwhelmingly adverse situation, and grew into an exceptionally big hit.
Story
Grace Field House is a paradisiacal orphanage filled with happiness. The orphans who live there with their "Mother", the caretaker, Isabella, all look forward to the day they grow old enough to be adopted. Emma (Minami Hamabe), Ray (Kairi Jyo) and Norman (Rihito Itagaki) also believe they could lead an even happier life once they get to live in the outside world… only until "that day". After Emma and Norman see Conny off, who smilingly leaves the orphanage to be adopted, they find the doll Conny always kept in her arms left at the dining area of the house. To take the doll back to Conny, the two head to the "gate" which Isabella strictly has taught the children to stay away from, where they find Conny dead and ready to be shipped out as "food". The orphanage which the children thought to be was idyllic, was actually a "farm" to grow edible children to be offered to demons. Furthermore, the "Mother" they had all loved like their actual mother was actually a "cultivator" whose role was to raise the children to be premium feed. Finding out that everything was all but a fantasy, Emma, Ray and Norman begin their reckless attempt to break out of Grace Field House along with their other siblings.
Cast
Minami Hamabe
Kairi Jyo
Rihito Itagaki
Naomi Watanabe
  ・
Keiko Kitagawa