Nobunaga Concerto
Release date: January 23, 2016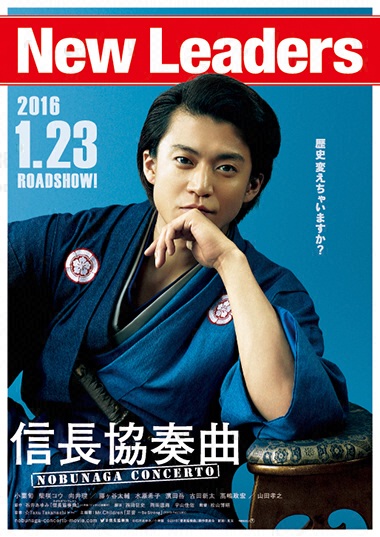 Introduction
"Defy your fate and change the course of history!" An innovative SF period epic starring hero "Saburo Nobunaga" is coming to theaters in 2016!
Shun Oguri plays the dual role of Saburo and Akechi Mitsuhide. He leads an all-star cast of historic generals and the women who support them in this exciting adaptation of the TV drama series!
Story
Saburo is a high school student who hates history and always shies away from confrontation. Somehow, he travels back in time to Japan's Sengoku Era, where he meets his doppelganger, the young warlord Nobunaga Oda!
When the sickly Lord Nobunaga asks his look-alike to take his place, Saburo must learn to survive in a war-torn period of Japan marked by constant military conflict and social upheaval!
The film is based on a popular manga by the same name written by Ayumi Ishii and serialized in Shogakukan's "Gessan" magazine. Fuji TV adapted the manga into a historical TV drama series in 2014. The period piece with its hip, original worldview appealed to a broad fan base and achieved record viewer ratings. Saburo survives betrayals, assassinations and conspiracies and wins the trust of his men. His goal and fate is to unify Japan. But will he be killed at Honnoji Temple by Nobunaga a.k.a. Akechi Mitsuhide?
Cast & Crew
Original story: "Nobunaga Concerto" by Ayumi Ishii (serialized in "Gessan" Shogakukan)
Screenplay: Masafumi Nishida, Michitaka Okada, Keisuke Uyama
Director: Hiroaki Matsuyama
Music: ☆Taku Takahashi (m-flo)
Theme Song: Mr. Children "Ashi-oto ~ Be Strong" (TOY'S FACTORY)
Cast: Shun Oguri, Ko Shibasaki, Osamu Mukai, Taisuke Fujigaya, Kiko Mizuhara, Gaku Hamada, Arata Furuta, Masahiro Takashima, Takayuki Yamada