MASQUERADE NIGHT
Release Date: September 17th, 2021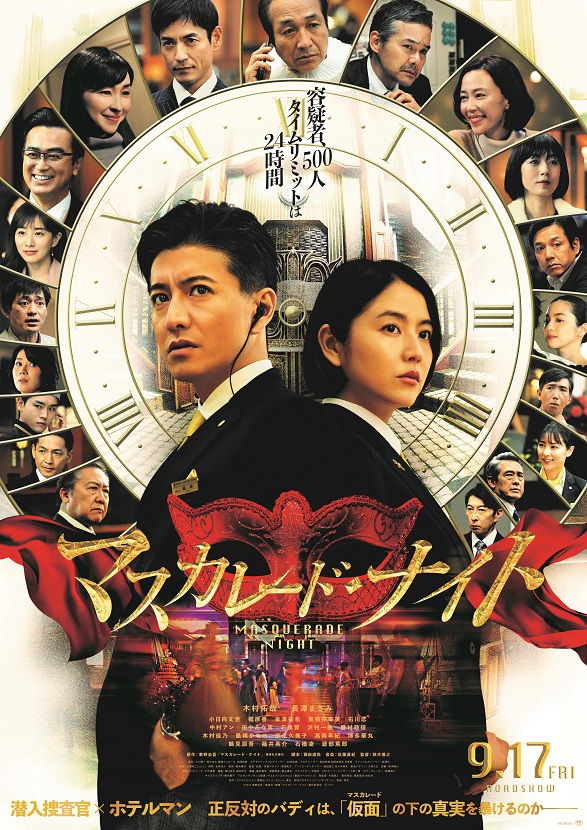 Introduction
500 suspects
24-hour time limit
The undercover detective and hotelier are total opposites.
Will the "MISFITS" be able to expose the truth hidden beneath the "mask"?
Welcome to "Masquerade Night."
With over 4.5 million copies sold, the "Masquerade" series (published by Shueisha) written by bestselling author Keigo Higashino, is one of his most popular works.
The first novel, "Masquerade Hotel," was adapted to a live-action film in 2019 and recorded box office revenues of 4.64 billion yen. Two years later, the unlikely duo of undercover cop and hotelier is back to tackle another challenging case.
The rogue detective Kosuke Nitta is played by Takuya Kimura, who has appeared in numerous blockbuster movies and dramas and has always been at the forefront of the music and TV commercial scene. Author Higashino claims he had Kimura in mind as the perfect Nitta while writing the mystery novel.
The quintessential combination of Kimura ×Higashino ×Suzuki (director) is brought to life on the big screen in "Masquerade Night."
Nitta's "buddy" Naomi Yamagishi, the model hotelier, will be played by Masami Nagasawa, the multi-faceted actress from the "Confidence Man JP" series, the movie "MOTHER", and the musical " Furimun Sisters." Nagasawa recently won the Best Leading Actress award at the 44th Japan Academy Film Prize.
The ultimate "buddies" are back!
Story
An anonymous letter is delivered to the police – a warning that the killer involved in a mysterious homicide that occurred a few days ago in a condominium in Tokyo will strike again at "Masquerade Night", the New Year's Eve countdown party held at Hotel Cortesia, Tokyo.
On December 31, rogue detective Kosuke Nitta (Takuya Kimura) once again goes undercover as a hotel clerk to apprehend the culprit criminal. As in the last case, he is assigned to work with Naomi Yamagishi (Masami Nagasawa), an exemplary, if somewhat overly serious hotelier. All 500 invitees will be in costume. Everyone is a suspect. As the masked guests begin to arrive, they struggle to find a clue which will lead them to the murderer.
Midnight draws near as the number of suspects increases. What is the killer's intention? Who is the informant? Will Nitta and Yamagishi be able to unveil the truth hidden behind the murderer's mask before the time limit?
500 guests. Everyone is in costume. Everyone is a suspect.
Their jobs and personalities are as different as night and day. Will the unlikely buddies be able to "unmask" the killer and stop the countdown to murder?
Cast
Takuya Kimura
Masami Nagasawa
Fumiyo Kohinata
Zen Kajihara
Yuki Izumisawa
Toshihide Tonesaku
Ren Ishikawa
Anne Nakamura
Minami Tanaka
Ken Ishiguro
Ikki Sawamura
Masanobu Katsumura
Yoshino Kimura
Kaname Ouki
Kumiko Aso
Saki Takaoka
Hanamaru Hakata
Shingo Tsurumi
Eisuke Sasai
Ryo Ishibashi
Atsuro Watabe