INUYASHIKI
Release Date: April 20th 2018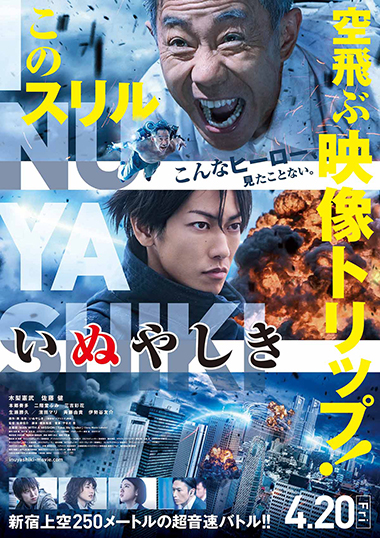 Introduction
Live-action adaptation of "INUYASHIKI" the most remarkable Sci Fi action manga by Gantz's Hiroya Oku. Manga "INUYASHIKI" published more than 2 milion copies. Director Shinsuke Sato who is known for "GANTZ PERFECT ANSWER" "DEATH NOTE Light up the NEW world" is going to adapt it into live action. Staring Takeru Sato "KENSHIN" "LIAR AND HIS LOVER" and Japanese famous comedian Noritake Kinashi "RYOMA'S WIFE, HER HUSBAND AND HER LOVER" "INUYASHIKI" is an action packed Sci Fi thriller.
Story
A dull office worker Ichiro Inuyashiki who is close to retirement age was neglected by his family. One day he was diagnosed with terminal cancer and becomes desperate. That night, a UFO crashes into him and his body was transformed into a machine with his mind still working as it used to. He was given a super power and with that power, he was able to both attack and heal people only with his will. At the same time a high school boy Hiro Shishigami that was in the same UFO crash also got the super power and was using it as he likes. Attacking living creatures including human and creating chaos to the world.
Shishigami keeps killing people just for the excitement, and Inuyashiki is trying to save those that are attacked by Shishigami. Is the human nature evil or justice? The two human with great power starts acting on their own terms.
Cast
Noritake Kinashi
Takeru Sato
Kanata Hongo
Fumi Nikaido
Ayaka Miyoshi
Mari Hamada
Yuki Saito 
Yusuke Iseya
Nayuta Fukuzaki