Galaxy Turnpike
Release date: October 24, 2015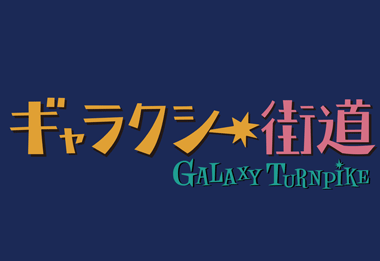 Introduction
Writer/director Koki Mitani takes us on a hilarious journey into outer space in his much-anticipated latest work; a genre-bending blend where space opera meets romantic comedy.
After a succession of much-loved hits, Suite Dreams ('06), The Magic Hour ('08), A Ghost of a Chance ('11) and The Kiyosu Conference ('13), the always-entertaining Koki Mitani is back with another of his unique films. This time he is making his first foray into outer space and taking with him the usual stellar line up of actors. In the lead role is Shingo Katori with Haruka Ayase as his heroine. This Autumn you're in for a hilarious treat so keep an eye out for Mitani's latest romantic space comedy and its cast of all-star aliens!
Story
The year is 2265 AD and we are aboard the space colony "Uzu-Shio" which sits in orbit between Jupiter and Saturn alongside the supply route 246666 which leads back to Earth. This interspace highway is known as the "Galaxy Turnpike".
In its bustling heyday it was renowned for the number and variety of its different food establishments but after 150 years, reduced traffic volume has brought hardship. Now dilapidated and quiet, rumors of its pending abandonment abound.
Today is just a normal day as a smattering of different travelers from an array of different planets drop by. Although each may be an extra-terrestrial, their personal burdens of worry and fear all seem overwhelmingly human.
Our stage is a tiny hamburger joint, "Sando Sando Burger - Cosmo Branch", which sits all alone beside the space route. What unfolds is the tightly woven interaction between the employees and their sundry clients which include a detachment of a Space Ranger, a Space Hero, a Space Pimp, a Space Prostitute, a Space Doctor, a Space Bureaucrat, a Space Singer and a Space Part-timer...all of them alien beings!
So hold onto your helmet and stand by for the launch of Mitani's alien-packed Space Fantasty - 2015 Autumn!
Satff & Cast
Screenplay & Directed by Koki Mitani
Cast:
Shingo Katori
Haruka Ayase
Shun Oguri
Yuka
Takanori Nishikawa
Kenichi Endo
Yasunori Danda
Kanji Ishimaru
Sayaka Akimoto
Kenji Anan
Zen Kajihara
Rika Tamura
Kazuyuki Asano
Koji Yamamoto
Shinobu Otake
Toshiyuki Nishida