Special Exhibition "The Mammoth"
Period: Friday June 7 to Monday (Holiday), November 4, 2019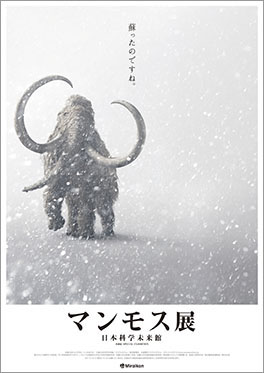 Introduction
Due to the influence of global warming in recent years, numerous mammoths, a massive land mammal said to have become extinct approximately 10,000 years ago, have been uncovered from the permafrost of the Republic of Sakha (Yakutia) of the Russian Federation.
Unlike typical fossils, the excavated mammoths have been preserved in a frozen state, making them uniquely "fresh" despite being thousands of years old. The head of a frozen Yukagir Mammoth was first exhibited in Japan at the Expo 2005 Aichi Japan, generating an enormous interest.
In 2006, the frozen Yukagir Mammoth was exhibited throughout Japan, including at Miraikan. As part of the upcoming exhibition, many other frozen specimens of recently excavated ancient animals will also be premiered, in addition to the famous Yukagir Mammoth.
Mammoth related researches have continued since the first frozen mammoth was discovered. Recently, cellular samples have been extracted with astonishingly well-preserved DNA, unlike anything discovered in the past.
We can expect major progress to be made towards resurrecting the mammoth if these cellular samples are combined with cutting-edge biotechnology. In Japan, Kindai University is conducting world-leading research in this field.
Yet, questions also exist as to the ethicality of resurrecting extinct animals, and what impact they would have on the current ecosystem. This exhibition offers an opportunity to learn about the state of the latest developments in life sciences, while considering these profound questions.
Utilizing precious mammoth specimens and other ancient animals, this special exhibition will explore the ecology of the mammoth and the natural world at the time during which it roamed the Earth, and introduce leading life science research delving into the world of long-lost animals.
Event Details
■Title: Special Exhibition "The Mammoth"
■Period: Friday June 7 to Monday (Holiday), November 4, 2019
■Opening Hours 10:00-17:00 Last admission 30min. before closing time.
■Venue: Special Exhibition Zone 1F, Miraikan
■Closed: Tuesdays (open on July 23, 30, August 6, 13, 20, 27, October 22, 2019)
■Organizers: Miraikan and Fuji Television Network, Inc.
★Please visit the official website for more details