The Single Teacher Miss Hayako
Aired on Thursdays from 10:00 to 10:54 p.m.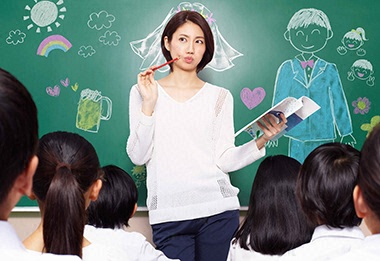 Introduction
Nao Matsushita cuts her trademark long hair short to play the title character Miss Hayako, a single 34-year-old PE teacher. "The Single Teacher Miss Hayako" strikes a perfect balance between laugh-out-loud comedy and emotionally honest drama and surely going to be everyone's Thursday night's favorite show!
Story
"The Single Teacher Ms. Hayako" is the first TV drama adaption of Hayako Tastuki's comic essay series based on the personal experience of the author herself. The protagonist Hayako Tasuki (Nao Matsuhshita) is an elementary school gym teacher. Always cheerful, big-hearted and open-minded by nature, she comes off as a wonderful woman with no flaws, but she also has goofy, quirky side to her and likes to be silly with kids. She's generally content with her life, but as far as her love life is concerned, Hayako is rather indifferent: she just vaguely hopes to eventually get married someday with someone that she loves. However, after her father is hospitalized, she starts to think seriously about finding a partner for herself and decides to take steps towards getting married.
Cast
Nao Matsushita
Shihori Kanjiya
Hitomi Sato
Norito Yashima
Isao Bito
Keiko Matsuzaka
Company Credits
Produced by Kyodo Television, Fuji Television Network, Inc.