Fugitive Boys
Aired on Tuesdays from 9:00 p.m. Starting from July 18th, 2017.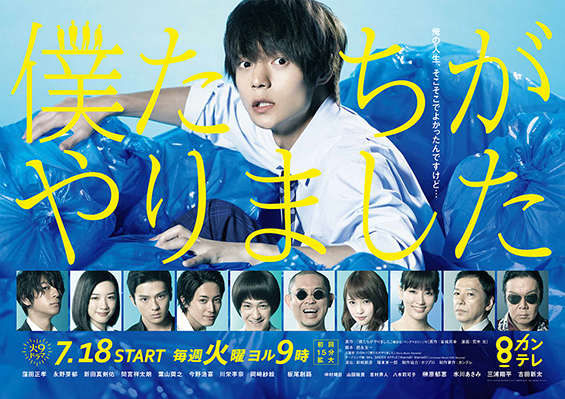 Story
Four groups of friends are just living their everyday lives, just simply satisfied and complacent. One day, their group of friends get beaten up badly by students from the 'delinquent' high school which is located opposite them. As a result, they decide to plan some form of a revenge on them. However, on the day of the plot, this all turns into an unbelievable incident. When they realize, the 'delinquent' high school opposite them is surrounded in a sea of fire. In a matter of moments, they have turned themselves into criminals plotting a 'bomb' attack. Their choice from this point onwards are to get away from the whole situation.
In this way, a new story begins, where a group of young students who are unable to face up to reality, goes ahead with their great run away from reality. What awaits them are police detectives, teachers who begin to pursue their location and the revenge plot from the delinquents. Furthermore, they have demands which they can't put to bear, parting with friends, and saying goodbye to their best friends. On top of that, they feel a sense of guilt too! This is a suspense drama which depicts these kinds of students who are forced to escape in a desperate situation for their survival.
Cast
Masataka Kubota
Mei Nagano
Mackenyu Arata
Shotaro Mamiya
Shono Hayama
Hiroki Konno
Rina Kawaei
Sae Okazaki
Itsuji Itao
Ikue Sakakibara
Asami Mizukawa
Shohei Miura
Arata Furuta