DRIFTING DRAGONS
Aired from January 8th, 2020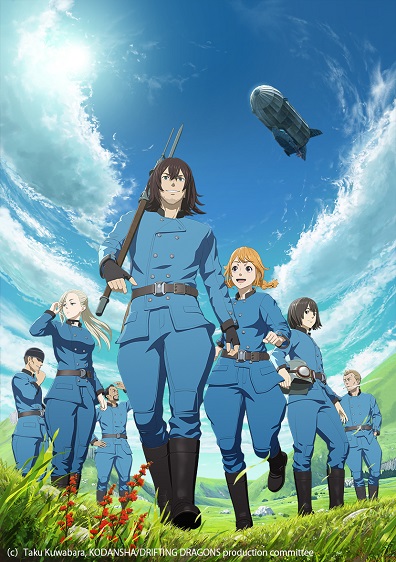 Introduction
Taku Kuwabara's "Kutei Dragons" (Kodansha's "good! Afternoon") is the story of an airship crew who hunt flying dragons in the sky.
Its beautiful and vast fantasy world and detailed character depictions will be brought to life by Tadahiro "Tady" Yoshihira,
Co-director on "Knights of Sidonia: Battle for Planet Nine" and "BLAME!". The screenplay will be written by Makoto Uezu,
who has worked on many successful projects such as "Assassination Classroom" and "The Heroic Legend of Arslan".
Animation production "Polygon Pictures" will be done by the team who made "Knights of Sidonia" and "BLAME!",
who will come together once more to create a jaw-dropping high fantasy world.
Story
Dragons, the rulers of the sky.
To many people on the surface, they are dire threat, but at the same time, a valuable source of medicine, oil, and food.
There are those who hunt the dragons.
They travel the skies in dragon-hunting airships. This is the story of one of those ships, the "Quin Zaza", and its crew.
(c)Taku Kuwabara, KODANSHA/DRIFTING DRAGONS production committee