Chibimarukochan
Aired on Sundays from 6:00 - 6:30 p.m.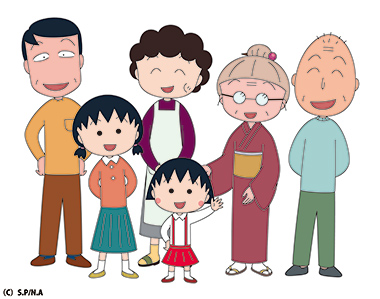 Story
A heart-warming story for the whole family about Maruko's life filled with fun, adventure and sometimes bittersweet days with family and friends.
The main character, a third grade school student Maruko is usually an idler unless something inspires her to brim with curiosity. She lives with her family of 6, grandpa, grandma, father, mother, and sister in Shimizu city of Shizuoka prefecture. At school Maruko is surrounded by unique classmates like her best friend Tama-chan, a boy from a wealthy family named Hanawa-kun, an earnest class president Maruo-kun, comedy-lover Noguchi-san, class clown Hamaji and Butaro who ends his sentences with a "Boo", easy going Yamada and a little gloomy Nagasawa, Fujiki and more…
The animation for "Chibimarukochan" began on January 7th of 1990. Since then the show has brought heartwarming stories to the family through Maruko's mellow days.