The Mole Song -Undercover Agent Reiji- FINAL
Release Date: November 19th, 2021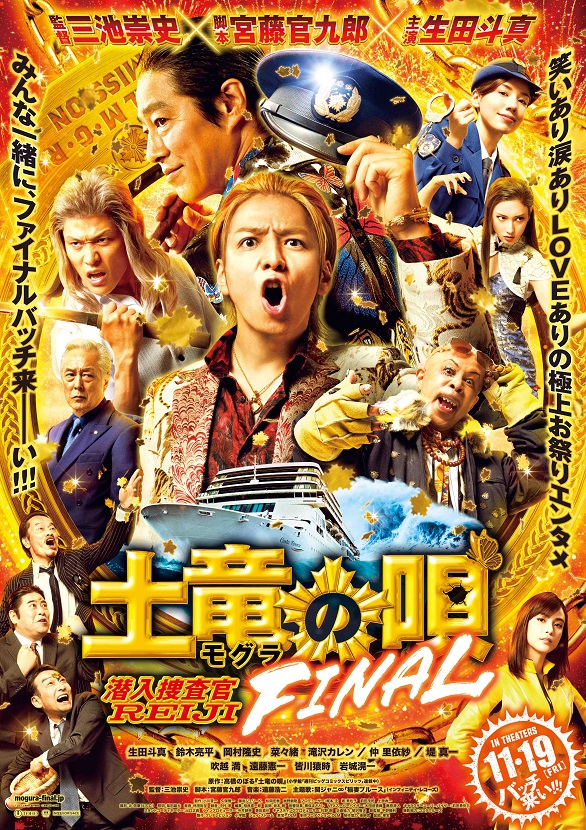 Introduction
Farewell, Reiji.
Farewell, beloved undercover agent.
Bring on the final mission!!
Director Takashi Miike with screenwriter Kankuro Kudo and starring actor Toma Ikuta.
The final installment of the unruly, unpredictable, ultra-popular action-entertainment!
The film is based on manga series The Mole Song (author Noboru Takahashi/magazine Big Comic Spirits) with 9.50 million copies in print. Its film adaptations are high quality (a bit raunchy?) entertainment made up of the over-the-top world of Miike, high-speed screenplays by Kudo, and acting by Toma Ikuta who gives himself up totally to his character-a combination that turned the first two installments into huge box office hits.
Coming this winter…The third installment and the series' final chapter!!
Staggering action scenes of the battle between super cop and evil yakuza!
Beautiful women galore!
Loads of laughter, tears, and love!
The start of an impossible final mission that will make you roar with laughter!
Story
Reiji Kikukawa (Toma Ikuta) graduated from the police academy with the worst record in its history, and he has submitted more "letters of apology" than anybody on the force. One day out of the blue, this straightforward, overly hot-blooded cop with a weakness for women is assigned to an undercover investigation as "The Mole"!
He is ordered to infiltrate Japan's most feared yakuza organization in order to arrest its leader, Shuho Todoroki. Reiji goes deep, deep undercover, and his final mission is to stop the biggest illegal drug trade in history worth USD 6 billion! This huge crime takes place on a luxury cruise ship sailing around the world!! He faces his strongest toughest and most crooked enemy!!! He is tricked by a sexy beauty veiled in mystery, and his relationship with his girlfriend, Junna, hits rock bottom. Facing the worst crisis in The Mole's history, will Reiji be able to put Shuho Todoroki in the slammer and become the "King of Moles"?!
Cast
Toma Ikuta
Ryohei Suzuki
Takashi Okamura
Nanao
Karen Takizawa
/
Riisa Naka
/
Shinichi Tsutsumi
Mitsuru Fukikoshi
Kenichi Endo
Sarutoki Minagawa
Koichi Iwaki