The Confidence Man JP -Episode of the Hero-
Release Date: January 14th, 2022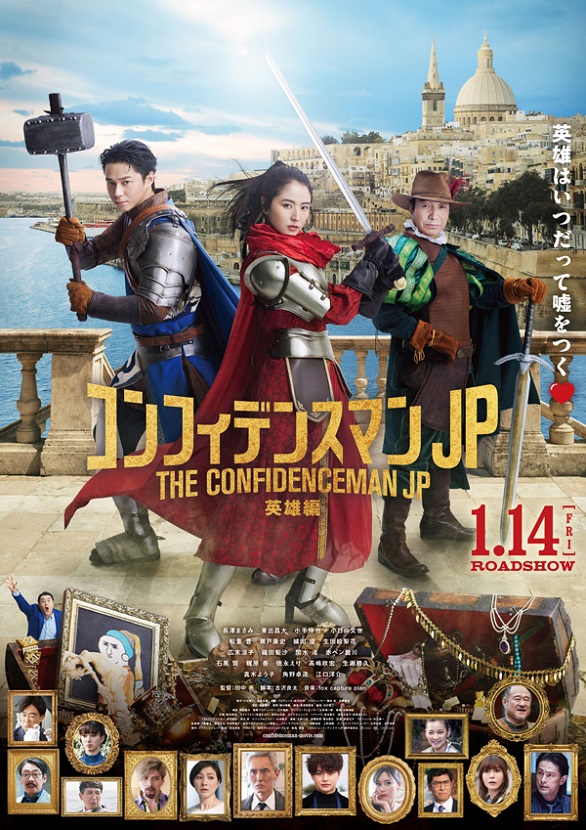 Introduction
Confidence Man JP Part III is here! The third installment takes place in a world heritage site in the Mediterranean Sea – the Maltese Islands! The drama premiered in April 2018, followed by the blockbuster film adaptation "Confidence Man JP Romance Chapter" in 2019!
The 2020 sequel "Confidence Man JP – Episode of the Princess –" was an even bigger hit!
And now, Part III is here! The "Romance Chapter" was set in Hong Kong. The "Episode of the Princess" was set in Langkawi Island, Malaysia. The series is famous for its exotic international locations. This time, the Confidence Men are headed to Europe!
The scam artists will battle it out in the City Valletta, the capital of Malta and a designated UNESCO world heritage site.
Trust no one, not even your comrades!
Story
The "Third Generation Tsuchinoko" -- the master con man hailed as a "hero" has died.
Dahko, Boku-chan and Richard all honed their skills under his tutelage.
The title of "Tsuchinoko" is handed down in secrecy to the Confidence Man (scammer) with the greatest skill, setting the stage for a showdown between his three star pupils. The contest will take place in the world heritage city of Valletta, Malta, an international gathering place for the rich and famous.
Their target is the invaluable ancient Greek sculpture "Dancing Venus", currently owned by a wealthy, retired Spanish gangster. Each scammer adopts a unique strategy in pursuit of the target, but the police and Interpol are also hot on their heels.
Who will laugh last?!
No one knows how the biggest scam in history will end!
Who is the true "hero" and what is the ultimate "truth"?
The last con game, grand finale, Battle Royale...begins now!
Cast
Masami Nagasawa
Masahiro Higashide
Shinya Kote
/
Fumiyo Kohinata
Yutaka Matsushige
Koji Seto
Yu Shirota
Erika Ikuta
Ryoko Hirosue
Risa Oda
Nagisa Sekimizu
Akapen Takigawa
Ken Ishiguro
Zen Kajihara
Eri Tokunaga
Masahiro Takashima
Katsuhisa Namase
Yoko Maki
Takuzo Kadono
Yosuke Eguchi