Mezamashi TV
Aired on Mondays through Fridays from 5:25 to 8:00 a.m.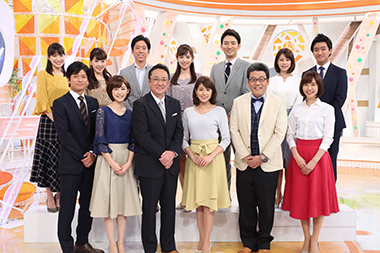 Daily morning news magazine show "Mezamashi TV" presents viewers up-to-date national and international news, including politics, sports, entertainment, as well as the latest trends and hot topics of the day in the most entertaining and easily understandable way. The show's full of beneficial information that can liven up your everyday life and start the day right!
Mezamashi TV Aqua
Aired Every Weekday from 4:00 to 5:25 a.m.
Replacing Meza News which ran from October 2003 to March 2014, "Mezamashi TV Aqua" provides the news, sports, weather, entertainment and more from 4 am in the early morning.
Official Site:
http://www.fujitv.co.jp/mezaaqua/index.html
Mezamashi Saturday
Aired on Saturdays from 6:00 to 8:30 a.m.
On air every Saturday, the show provides a unique blend of entertainment and topical lifestyle information, from fashion, food and travel, as well as the latest trending topic to viewers across the country. It's a perfect morning show to start your fun-filled refreshing weekend!
Official site:
http://www.fujitv.co.jp/mezamado/index.html