SATURDAY NIGHT FEVER – Musical
Period: 2019/12/13 (Fri) - 2019/12/29 (Sun)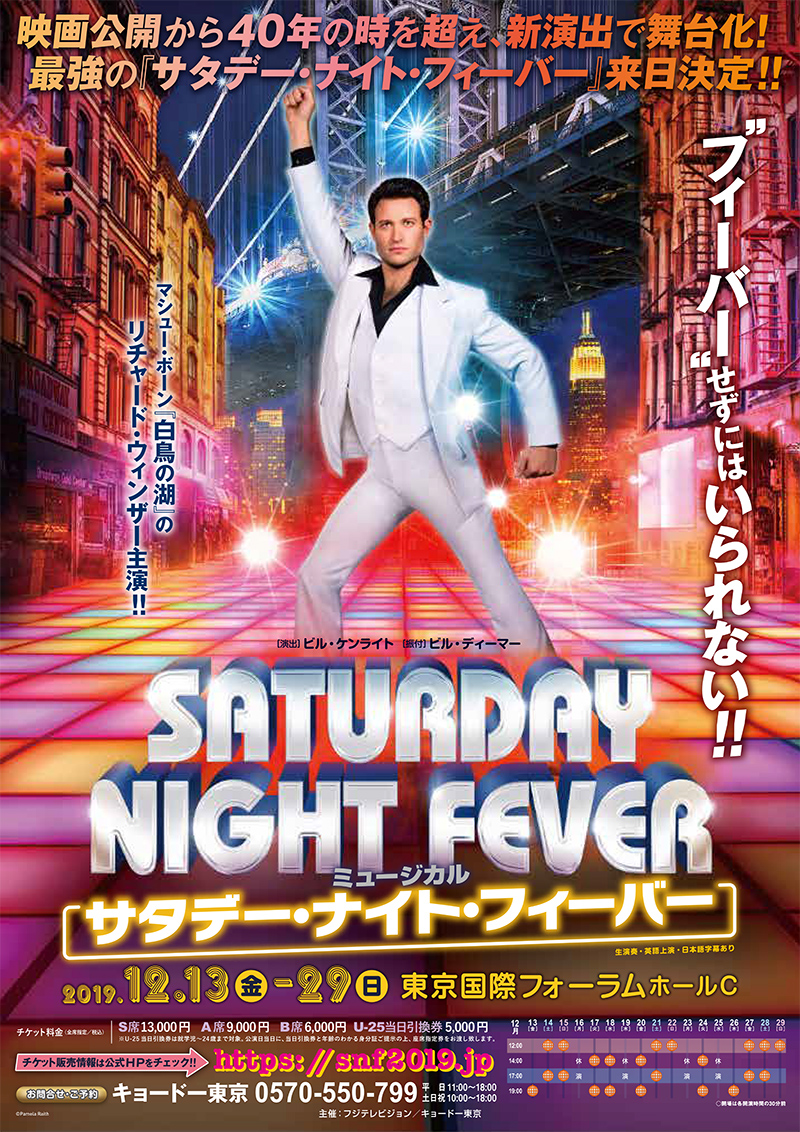 Introduction
After more than 40 years since the release of the movie "Saturday Night Fever," the ultimate stage production comes to Japan!
Starring Richard Winsor from "Matthew Bourne's Swan Lake," the blockbuster movie "Saturday Night Fever" which symbolizes the disco boom of the 70's comes to life!
Whilst the city gets livened up with the tune "Stayin' Alive" by the "Bee Gees," and, with "Night Fever" in full swing, super sexy dancing catches everyone's attention at the disco. The lead character Tony's daily life is simply an exciting dance musical in itself.
Having premiered in 2018 in the UK, this latest edition has all the elements from the original film, with the three singers reminiscent of the "Bee Gees" on stage.
And, Richard Winsor known for his leading roles in "Matthew Bourne's SWAN LAKE" and "Edward Scissorhands" plays the main character "Tony" who astonishes everyone with his immaculate moves on the dance floor.
With a variety of disco dances synchronized to perfection, heartwarming solos, duets, and beautifully varnished acting skills, the peerless character of Tony has been re-created on stage.
For the musical world, a new star is born. And for dance fans, it's an opportunity to experience something fresh out of the ordinary. Of course, the musical stays faithful to the original movie and preserves the true essence of the "Bee Gees."
Event Outline
■Period: 2019/12/13 (Fri) - 2019/12/29 (Sun)
■Venue: Tokyo International Forum Hall C
■Tickets: (all seats reserved, tax included)
S seat 13,000 yen
A seat 9,000 yen
B seat 6,000 yen
★Official English Website
ENGLISH WEBSITE
★Please visit the site below to purchase tickets in English
CLICK HERE TO PURCHASE TICKETS IN ENGLISH