KURIOS – Cabinet of Curiosities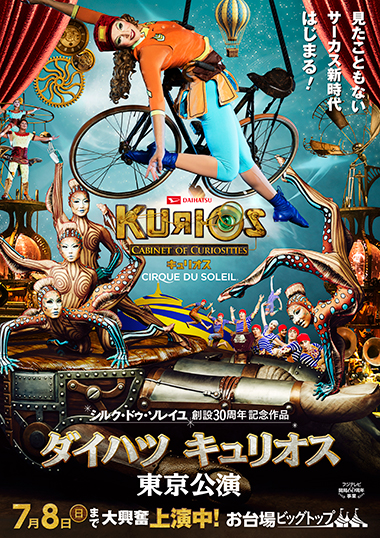 What is KURIOS?
KURIOS is the treasure box of curiosities
"KURIOS" is Cirque de Soleil's 35th production since 1984, a production which was created in the year of the 30th anniversary of Cirque du Soleil. Cabinets of curiosities are the ancestors of museums, also known as cabinet of wonder in the Renaissance Europe. Aristocrats, members of the merchant class and early practitioners of science formed collections of historical relics, works of art or mysterious travel souvenirs or artefacts. It is set in the time of the industrial revolution during the 19th century. The Seeker is convinced that there exists a hidden, invisible world – a place where the craziest ideas and the grandest dreams await. A collection of otherworldly characters suddenly steps into his makeshift mechanical world. When the outlandish, benevolent characters turn his world upside down with a touch of poetry and humor in an attempt to ignite the Seeker's imagination, his curios jump to life one by one before his very eyes. What if by engaging our imagination and opening our minds we could unlock the door to a world of wonders? Since KURIOS opened its curtain in 2014, it has welcomed up to 2.8 million people until the December 2017 performance in Vancouver.
Event Outline
TOKYO PERFORMANCE
■Event Title: DAIHATSU KURIOS
■Tokyo Performance:
February 7, 2018 ~ July 8, 2018
201 performances.
■Venue: Odaiba Big Top
■Ticket (Tax included)
■Weekday Peformance
★Adult: SS Seat 12,500 Yen/S Seat 10,000 Yen/A Seat 6,500 Yen
★Student: SS Seat 11,500 Yen/S Seat 9,000 Yen/A Seat 5,500 Yen
★Child: SS Seat 8,500 Yen/S Seat 6,500 Yen/A Seat 4,500 Yen
■Weekend/National Holliday Performance
★Adult: SS Seat 13,500 Yen/S Seat 11,000 Yen/A Seat 7,500 Yen
★Student: SS Seat 12,500 Yen/S Seat 10,000 Yen/A Seat 6,500 Yen
★Child: SS Seat 9,500 Yen/S Seat 7,500 Yen/A Seat 5,500 Yen
※ Please note that "student" tickets are for those who are in junior high through to university and vocational college.
(Purchase of "student" ticket will require student identification cards)
※ Please note that "child" tickets are for children who are aged between 3 ~ 6 years. Children who are under 3 years old and requires a seat, will need a "child" ticket.
※ Some seats have a partially obstructed view during parts of the show due to stage equipment.
※ The content of the show may be subject to change.
■Sponsor: Fuji Television (other sponsors included)
■Planning and Production: Fuji Television/ Cirque du Soleil
■Special Sponsor: Daihatsu Motor Co., Ltd.
■Performances in other cities
★Osaka:
■Venue: Nakanoshima Big Top
■Period: Thursday, July 26 (2018)~Monday, October 29 (2018) 132 performances
★Nagoya:
■Venue: Nagoya Big Top
■Period: Thursday, November 22 (2018)~Sunday, January 27 (2019) 93 performances
★Fukuoka:
■Venue: Fukuoka Big Top
■Period: Friday, February 15 (2019)~Sunday, March 31(2019) 64 performances
★Sendai:
■Venue: Sendai Big Top
■Period: From April 2019~
■Ticket Sales Start: Saturday, September 23rd, 2017 from 10.00 ~
For further details and other performance dates & locations, please visit the Japanese official website.
■Walk-up tickets are available!!  ※Except buyout and sold-out shows.
■Tickets available online!! http://fujitvdirect.jp/kurios (Japanese Only)
■Further enquiries for tickets: 0570-020-520 (Operator: 10:00~18:00)