CIRQUE ÉLOIZE – SALOON
Tokyo: Fri, October 25th to Mon, November 4th (2019) / Osaka: Wed, November 13th to Sun, November 17th (2019)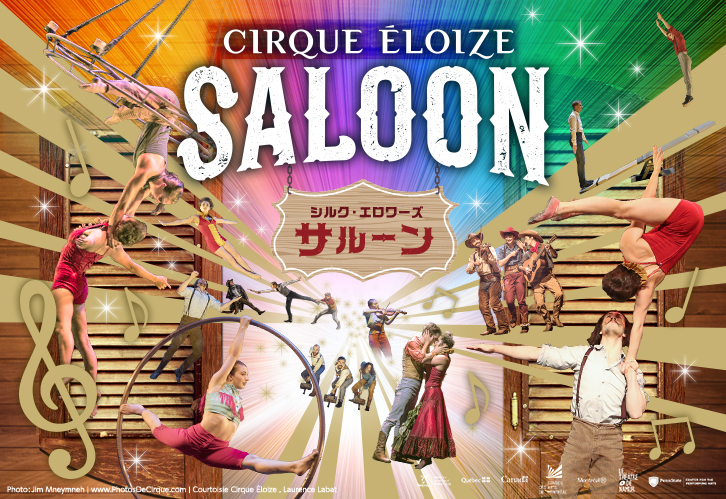 Introduction
Cirque Éloize's latest adventure in Japan, "SALOON," is inspired by the rich legacy of the wild west in America. As pioneers come to America, to a land yet to be explored, a town comes to life in the middle of the desert, as a "saloon" opens its doors.
Set in the 19th century, when America is expanding in the wild west, enter a mythical world where theatre and circus collide. This is a thrilling acrobatic show which include performances such as "CHINESE POLE," "TEETERBOARD," "AERIAL STRAPS" and "JUGGLING" with the infectious energy of western style music.
And for CIRQUE ÉLOIZE's first time, musicians will also be performing live musical instruments and songs. "Saloon" is an exciting acrobatic comedy which can reach out to everyone!
Event Outline
★Tokyo
▪Period: Fri, October 25th to Mon, November 4th (2019)
▪Venue: TOKYU THEATRE Orb
TOKYU THEATRE Orb Website
▪Running Time: approximately 80 minutes, no intermission.
★Osaka
▪Period: Wed, November 13th to Sun, November 17th (2019)
▪Venue: Orix Theater
Orix Theater Website
★Tickets (Tokyo/Osaka - All Seats Reserved, includes tax)
▪Adult S:¥ 9,800 Child S:¥ 6,800
▪Adult A :¥ 7,800  Child A: ¥ 5,800
▪Adult B :¥ 6,800  Child B: ¥ 4,800
▪Child tickets are from 3 years old to elementary school children.
▪Children under three years of age and below may be admitted with an adult. One child per adult.
▪If the seat is required for the child three years old or under, you must purchase a child ticket for each child.
★Purchase Tickets in ENGLISH here
CLICK HERE TO PURCHASE TICKETS IN ENGLISH