Lady Girls
Aired on Thursdays from 10:00 to 10:54 pm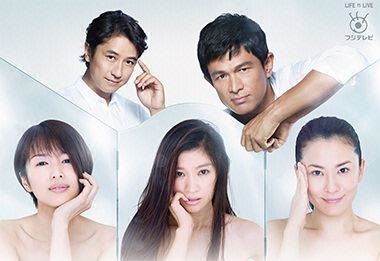 Story
"Lady Girls" is a poignant romantic comedy that portrays the lives of three single, professional women in their search for happiness and love.
A still-single 40-year-old Aki Nakahana (Ryoko Shinohara) has a successful life with her career but struggles when it comes to love. She appears to be an attractive, independent and capable woman, but whenever she starts going out with a guy, she tries too hard and often ends up miserable. After experiencing a series of disastrous relationships, Aki is now fearful of falling in love.
Aki has two best friends she often gets together for a girl talk: Moeko Oosaki (Michiko Kichise) an owner of a flower shop, and Midori Sakata (Sawa Suzuki), a divorced working mother raising three boys on her own.
At work, Aki has been put in charge of developing a role-playing romance game app with a group of team members who are all younger than Aki. One day, Aki approaches a famous scriptwriter for romantic dramas named Fumio Takayama (Yosuke Eguchi) to ask him to be a supervisor/advisor for the game app development projects. At their first meeting, the two get into an argument when Fumio makes a comment about being 40 and still being infatuated with crush-like romance…
Cast
Ryoko Shinohara
Michko Kichise
Sawa Suzuki
Shosuke Tanihara
Yosuke Eguchi