Crime Syndrome
Aired on every Saturdays from 23:40 to 24:35 p.m. Starting from April 8th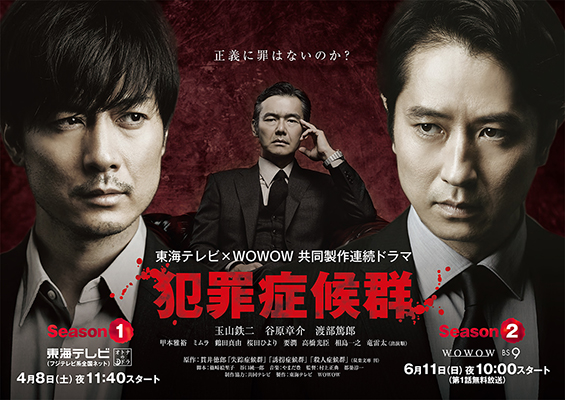 Introduction
In the Tokyo Metropolitan Police Department, there is a secret team that takes care of certain crimes that could not be handled by police official. Their duty is to investigate the tricky cases and seek the truths that cannot be dealt openly.
This is a suspenseful socially aware drama that depicts three issues, which are kidnapping, disappearance and murder in a profound manner. Three men appear as the major characters, the first character is a man who was assigned this "special mission" to investigate the case, the secondishis very close friend who is a detective and lastly, the boss who commands this special mission. The common theme throughout this drama is "Revenge, if it is right or wrong".
There are two men playing as leading principles, Muto and Kaburagi. A girl who had been so special for both of these men was killed. For Muto, the girl was his younger sister whom he loved like his daughter after the death of their parents in their youth. The other man, Kaburagi, who had been a lonely man with no family , for him, the girl was the only one he had ever loved in his life.
In the "Season 1," it focuses on Muto who suffers conflicting feelings, wishing to make a revenge for his sister, yet chooses not to go for revenge and tries to track down the crime pledging that no such victims shall be claimed again.
In the "Season 2 ", the main character changes into Kaburagi who is getting trapped with his desire to go for revenge that goes over the line. There is also another key person, Tamaki, the commander of this special mission who is cold-blooded. He is a kind of man who would do whatever in order to break the case.
The drama develops peculiar and absorbing cases such as kidnapping and murder with the three men as main roles of the story. It depicts in-depths the question of " Is revenge justifiable or not" through the point of totally different types of men.
Muto and Katsuragi, who are tied with deep mutual attachment, struggle, suffer, get enraged and undergo emotional turmoils with the different answers they finally found against "revenge." Eventually, tragedy awaits them..
This is the first joint drama production between "Otona no Do dra," literally Saturaday drama for the matured viewers, and Japan's number-one premium pay-TV broadcaster WOWOW's "Drama W series,".
Both drama slots that feature human stories with a unique world view comes as an entertaining drama for adults.
The drama is based on the trilogy novel of " Disappearance Syndrome," " Kidnapping Syndrome" and " Murder syndrome" by Tokuro Nukui that sold over 450,000 copies as a total.
The novel comes from the very first time as drama series with the unique fashion in which the principles are replaced per cours.
"A hell without a revenge, another hell with a revenge"
In the spring of 2017, we present an epic with the profound theme as a suspenseful drama.
© Tokuro Nukui / Futabasha
Cast
Tetsuji Tamayama
Shosuke Tanihara
Atsuro Watabe