ANASTASIA – MUSICAL
TOKYO - Sun. March 1 to Sat. March 28, 2020/OSAKA - Mon. April 6 to Sat. April 18th, 2020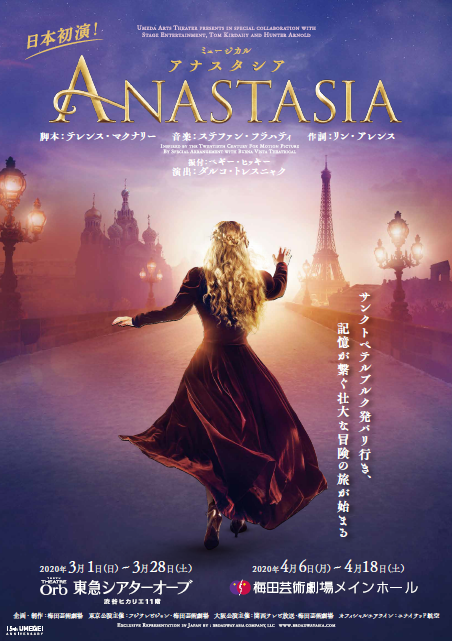 Introduction
Inspired by the animated film 'Anastasia,' which was nominated for Best Original Song and Best Original Score for the 70th Academy Awards, the ultimate Broadway Musical which depicts an adventure full of love finally comes to Japan!
With the collaboration of creative staffs from America and star-studded Japanese cast members, the show is sure to deliver a dream experience for audience of all ages. The main character Anya will be played as a double cast by Wakana Aoi and Haruka Kinoshita.
Story
The story goes back to the early twentieth century during the time of Tsarist Russia in Saint Petersburg. Anastasia is a daughter of the Russian tsar, Nicholas II, who spends her days with her precious music box given to her as a gift by her grandmother, Dowager Empress Maria, before the empress moved to Paris.
However, these peaceful days become a ruin when a group of Bolsheviks attack her palace.
Anastasia is of course presumed dead, however rumors eventually spread that Anastasia is in fact still alive.
Meanwhile in Paris, the Dowager Empress promises a reward to anyone that can find her.
Con men Dmitry and Vlad take advantage of an Anastasia look-alike, Anya, in the hope of handing her over to the Dowager Empress in return for the reward money, as they leave for Paris where the Empress lives.
Gradually Anya, who had lost her memory goes on to a journey to recover her old memories…
And at the same time, Gleb, a general for the Bolcheviks receives orders to kill Anastasia.
Meanwhile, with the support of Countess Lily, Anya finally gets the chance to meet Dowager Empress, but Gleb manages to track her down…
Cast
Anya: Wakana Aoi / Haruka Kinoshita
Dmitry: Naoto Kaiho (Tokyo Performance Only) / Hiroki Aiba / Akiyoshi Utsumi
Gleb: Koji Yamamoto / Yoshikuni Dohchin / Yusuke Tohyama
Vlad: Kenya Osumi / Zen Ishikawa
Countess Lily: Hikaru Asami / Marcia / Keiko Horiuchi
Dowager Empress: Rei Asami
※The cast may change due to unavoidable circumstances.
※The show is presented by Japanese cast in Japanese language.
Event Details
★【Tokyo Performance】
Venue: TOKYU THEATRE Orb
Period: Sun. March 1 to Sat. March 28, 2020
★【Osaka Performance】
Venue: Umeda Arts Theater
Period: Mon. April 6 to Sat. April 18th, 2020
★ Tickets
S:¥13,500 A:¥9,500 B:¥5,500 Royal Seat:¥15,000 (All Seats Reserved, includes tax)
※Special souvenir is included in the Royal Seat price.
※Before booking and purchasing your tickets, please note that B Seats offer a very restricted view of the stage.
※Children aged three and under are not permitted in the theater.
※Tickets must be purchased for each child.
※Customers requiring wheelchair-accessible seating are requested to contact Umeda Arts Theater in advance.